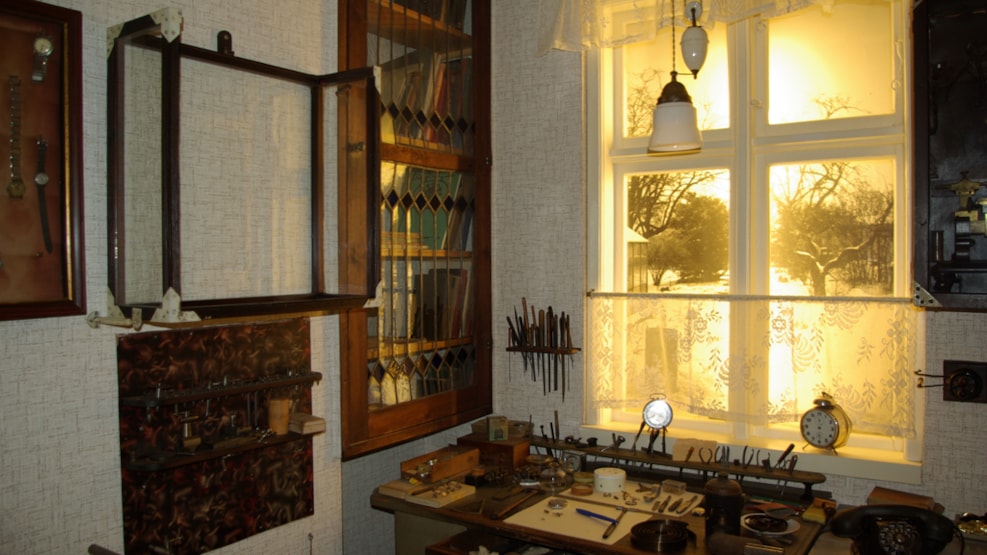 Dementia tour at Dit Museum Ølgod
The guide will calmly and quietly tell you about life on the moors 150 years ago. We have the museum all to ourselves and time to sit down with a cup of coffee.
In the old days... everything was better? Do your children - or grandchildren - not believe you can live without iPads and TV shows? Do they think it's hard to go to school? Maybe you should take them on a trip to Dit Museum Ølgod.
The tour is one of the last chances before the 50-year-old exhibition is dismantled in connection with the renovation of the Culture Centre.
Here you can give your family an insight into a completely different world, only 150 years away. A world where children walked on the moors and herded sheep, or got up early to milk in the dark stables. Where the mum treasured all the children she didn't lose and had to write memorial plaques. Where the father took the schnapps bottle to the field and porridge was on the table several times a day.
Here, pots were burned under the heather and then the black pots were used to boil porridge for the day's meals. Then the children were sent to school, the young farmers went to folk high school and the idea of sharing was born - that unity is strength. Modern agriculture was born. The story of the development from poor moorland farmer to democratic farmer is told at Dit Museum Ølgod.
The exhibition in Ølgod is soon a museum exhibition in itself. It was created in 1971 and was so innovative at the time that many of the presentation ideas still hold true today. Here you can see the development from a poor moorland community to a lively railway station town. You can get up close to most of the artefacts as they are not behind glass. You can walk into the interiors and sit at the long table. Under the ceiling is the milk churn. Can you guess why?
Date and time: Friday the 15th of December 10.00-12.00, the tour takes about 2 hours, but we adapt the plan to the guests who arrive on the day, and we take the time we need.
Registration: via email to Troels Riknagel at: TR@naturkulturvarde.dk or by calling tel. +45 20 69 51 16