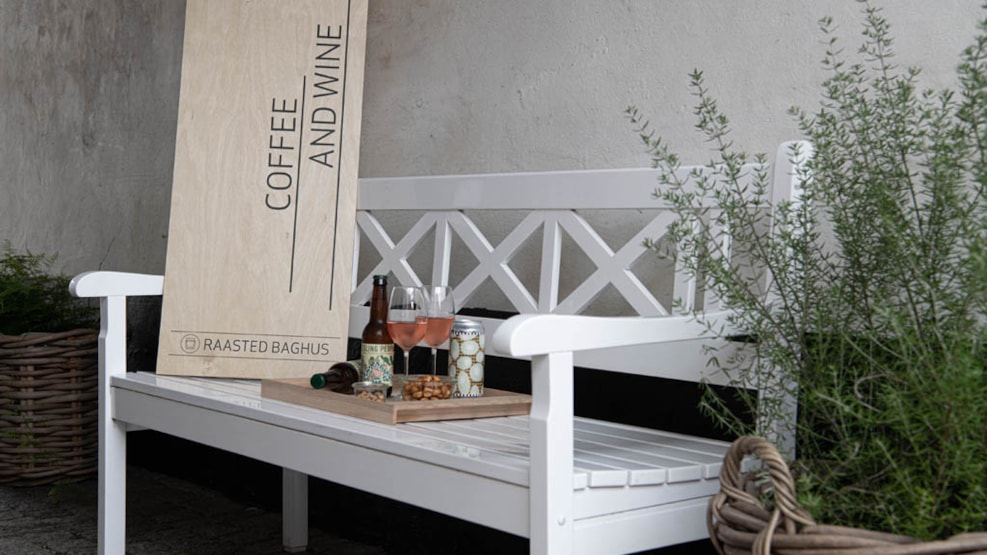 Raasted Kaffe & Vinbar
It oozes summer in the small back yard at Vester Strandgade. BAGHUSET RAASTED invites you indoors for beautiful drinks, bubbling beers, and well brewed coffee all summer. You can relax in the lovely back yard garden and take a break from the busy shopping street. You're welcome to stay for a while – enjoy the sun shining in the garden or go inside to the café.
The backyard behind the beautiful shop RAASTED serves drinks, wine, beer and coffee as well as a good cake.
In the backyard there is a bar with outdoor seating, where only the best is selection. That is why Raasted back house offers tasty and delicious drinks, special beers, wine and coffee of good quality.
At Raasted coffee and wine bar, everyone is welcome, and the intention of the backyard is to create an oasis, which gives people the opportunity for a little break in everyday life. It is possible to be social and have fun together over a cup of freshly brewed coffee, delicious drink, a good glass of wine or a special beer.
Raasted coffee and wine bar also sell out of the house. This means that if you want to sit in the harbors, bring your coffee or wine down there.
In addition, there will occasionally be events, such as live concerts.