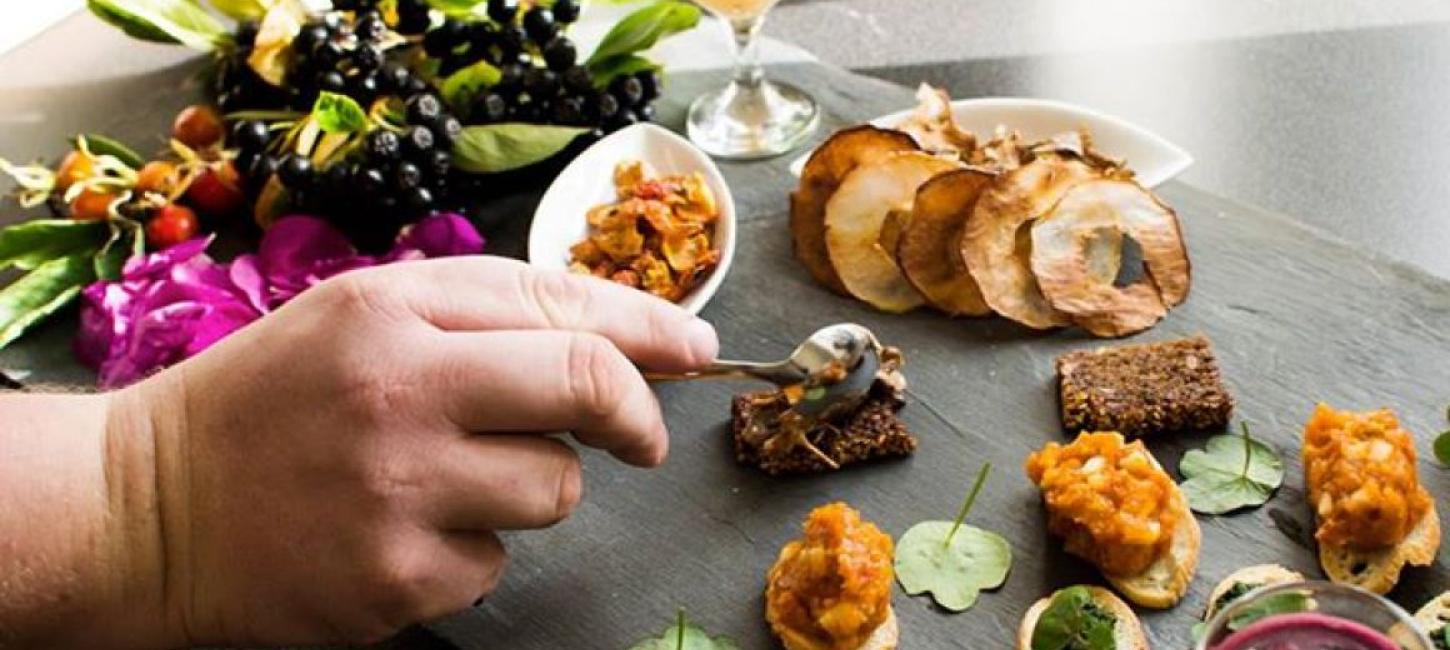 Five Autumn Snacks
Explore nature with your family and find delicious mushrooms, fruits, and spices which you can prepare in your holiday home or your campsite.
Creamed chanterelle, oven baked apple crisps, and fresh rose hip relish are just some of our five suggestions for homemade autumn snacks. 
Mushrooms spring from the forest bed, wild apples and pears weigh down tree branches to the ground, and the next rose hip bushes are just a stone's throw away; in autumn, nature is at its most generous. Therefore hvidesande.dk and Bent Graakjær from Westergaard's Hotel in Videbæk present you with five easy recipes for treats and snacks that you and your family can cook from the wild growing products that you can find in the Ringkøbing Fjord area:
Mushroom Snacks 
Chanterelle and porcino mushrooms are some of the most delicious mushrooms around. Bake porcinoes dry in the oven with a bit of salt and you will have a crunchy snack with a very characteristic flavor. Fry the chanterelle mushrooms with a bit of butter and cream and place them on a piece of toast and it will be a popular addition to your lunch.
Rose Hip Snacks
The west coast of Jutland is rich with rose hip bushes and with a bit of work these small red berries can easily be transformed into delicious snacks. For example, you can make a rose hip relish: remove the stones and boil the rose hips with some water and a bit of sugar. Mash them in the blender and add some fresh slices of apple. Or you can make rose hip candies by drying the rose hips in the oven with a spoonful of sugar. Also, rose hip leaves are aromatic and edible and very decorative on desserts.
Pear Dip
It's easy to make a delicious sweet dip from pears. Cook your pears with honey or sugar and add fresh coriander. Pear dip is great with apple crisps, dried mushrooms, and on toast.
Apple Crisps
Pluck some wild apples and make apple crisps. Cut the apples into thin slices and bake them in the oven with some sugar for half an hour at 150 degrees c and you will get a crunchy, crispy, and healthy snack.
Herb Oils
Make herb oils from the fresh herbs you can find in nature. For example, make one with broad-leaved garlic and watercress. Wild watercress grow next to streams and river mouths; if you blend it with a oil, salt, and pepper you will get a pesto-like oil with a lot of flavor.
These delicious autumn snacks should be accompanied by an elderberry shot. Pluck some elderberries and boil them with honey and a bit of water and the result is a rich elderberry juice packed with vitamin C; perfect for relieving the ailments of autumn and winter sniffles.