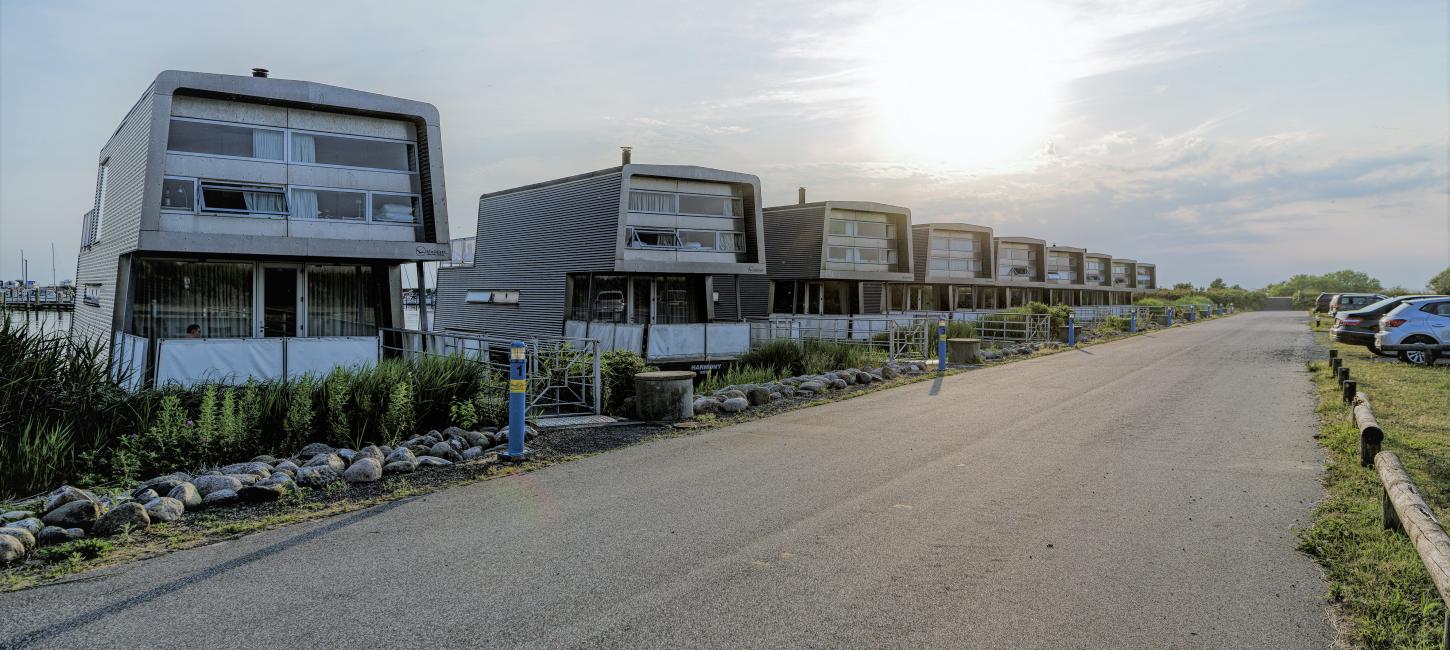 A holiday home on the fjord
If you want to be close to the water during your holiday, maybe you should rent a modern houseboat. Here you will find all the modern facilities you could wish for; and the ocean can be heard from just outside their walls.
If you dream about living on a boat but don't want to give up modern comfort, a houseboat is the perfect choice. Houseboats can accommodate between 5 and 8 people and are equipped with the same facilities you'll find in a modern holiday home. On each houseboat you'll find a terrace with garden furniture for relaxation and sun bathing, and in the living room there is a fireplace which you can cuddle up in front of on a day in fall when the western winds howl outside and whip the waves into a foamy white. 
House boats in Hvide Sande and Bork Habour
The boats have a panoramic view of the water and the harbor where the scenery changes on an hourly basis. The houseboats are situated in several locations in both Hvide Sande and Bork Havn. Their sizes vary but they are all top quality accommodation. 
Checklist for Houseboats
With a stay on a houseboat, you will experience a new type of holiday. You are ensured close contact with nature while also being able to enjoy life in the idyllic harbors at first hand. Let the gentle movements of the houseboat rock you to sleep and enjoy the glugging of the fjord right outside the window.
You will find houseboats several places in Hvide Sande and Bork Harbour. In practical terms a houseboat should be considered a holiday home, and you have to bring the same items as you would in a holiday home. Linen should be brought (can be ordered against a fee), children's' beds and chairs must be ordered and cleaning detergents, cloths and tea towels should be brought.
The houseboats are equipped with the same facilities as the holiday homes and there is room for 5-8 persons. There are terraces with garden furniture and living rooms with heating/wood stoves. Additionally you are ensured panoramic views of the harbor and water and you can experience life in the harbor 365 days a year.
Occasionally there can be work and noise in the harbors which, even though there are guests in the houseboats.