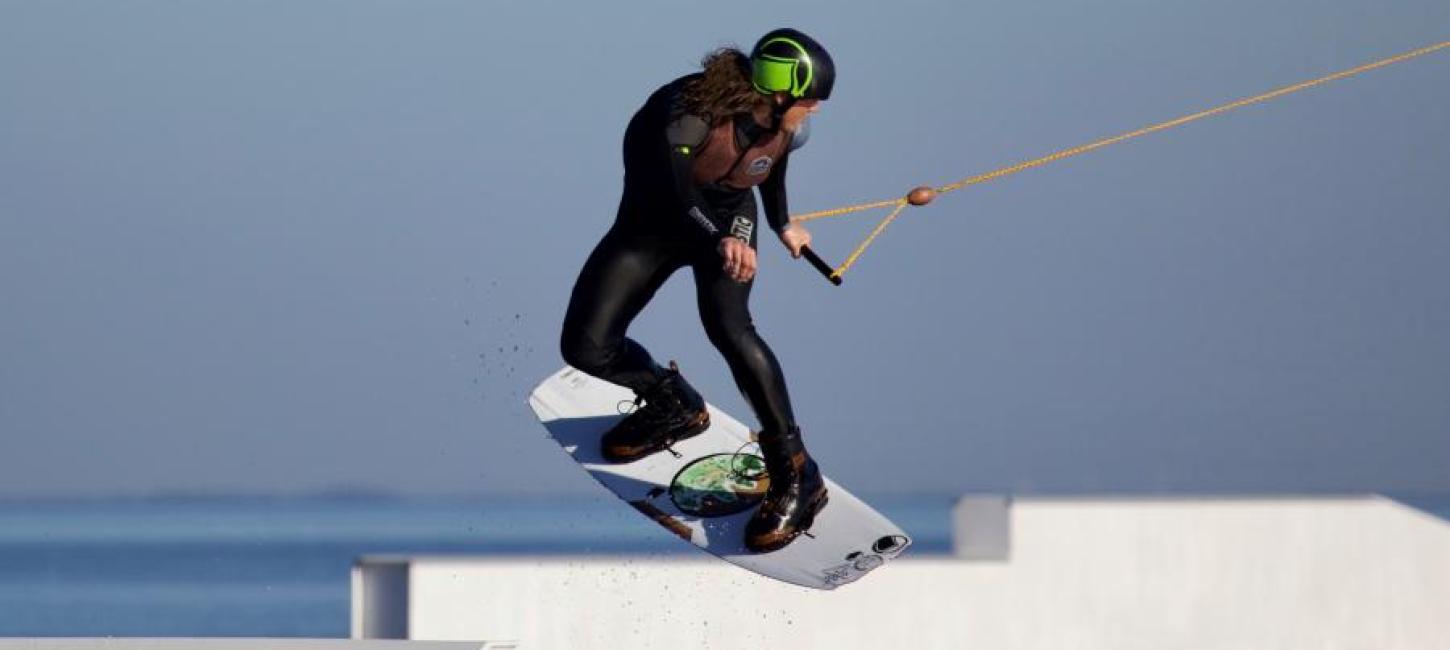 Water skiing and wakeboarding
Try out waterskiing and wakeboarding at Kabelpark.
At Kabelpark in Hvide Sande you can try out waterskiing and wakeboarding or just enjoy the relaxed atmosphere. 
Kabelpark is located on the side of the fjord in Hvide Sande, where the tranquil waters and the sandy bottom are ideal for waterskiing and wakeboarding. Most people try these sports out on their own, but beginners have the opportunity to take lessons in both disciplines. Gear for both waterskiing and wakeboarding can be leased at the waterski track. 
Rush across Ringkøbing Fjord
Wakeboarding and waterskiing are practiced at the cable track, where you are pulled around by a cable system that functions like a ski lift. It's all about getting your body in the right position, so that you don't end up falling backwards or nose diving into the water. However, speeds aren't that high that you will injure yourself with a fall. Adults can reach bottom in most places, but kids have to be able to swim and be above the age of 8 in order to try out Kabelpark. 
Experience the relaxed atmosphere 
There's a very special atmosphere here, when you mingle with surfers in wetsuits on the bobbing pontoon, where there's also a café. At outside tables and benches, guests have a good time with the café's delicious food and drinks, while watching the water sports on the fjord. For many it is a challenge to reach the end of the track still standing. Advanced waterskiers and wakeboarders do tricks on the ramps. Look forward to a wonderfully relaxed atmosphere at Kabelpark in Hvide Sande.