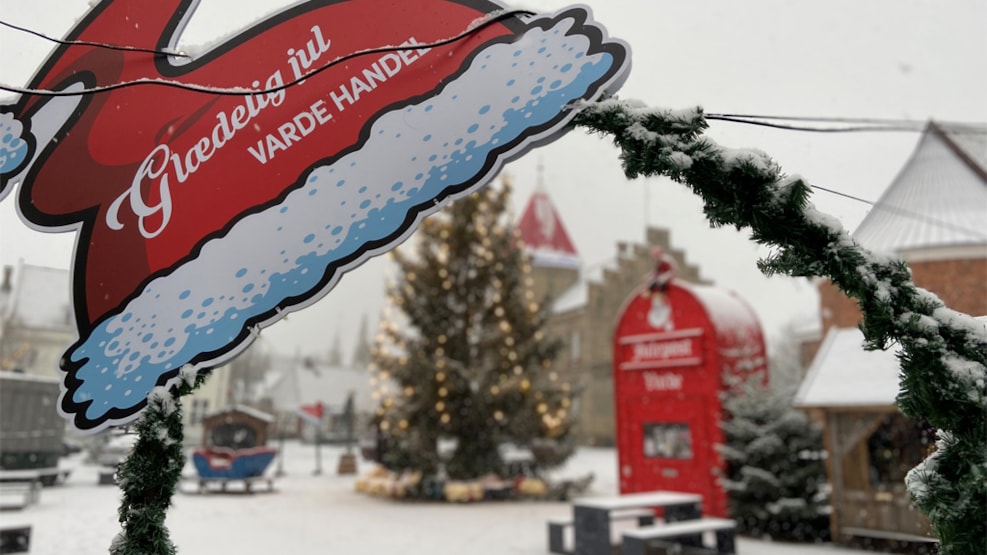 300 homemade elves welcome you to Varde - the City of Elves
That Varde is truly the City of the Elves as evidenced by the entire Christmas concept, which is beautifully matched to the old market town. The theme in Varde is a stress-free Christmas in authentic historic surroundings.
Three hundred elves are placed in the centre of Varde town, and Varde's Christmas icon – Scandinavia's largest Santa hat, tailored to the spire of the old town hall on the square – also attracts the attention of guests and locals in Varde. The Christmas cap measures 8 metres in height and 24 metres in circumference, and with its 120 square metres of red and white, it casts a unique lustre over the city. The the cosy atmosphere of Varde's city centre is enhanced by the cobbled streets and the many different shops, restaurants and cafes that characterise the market town.
Just as in the big cities, the town square has a very special status, and this Christmas season it forms the setting for a stress-free Christmas decoration zone where everyone is welcome. Call it a breathing space where the senses are in "zen-trum". There is free Christmas play in the car-free zone at the town square, and plenty of time to get your heart rate down at Santa's sleigh, as well as the tables and benches that invite you to spend time together with the whole family. A three-metre-high mailbox has also been set up, where both young and old can send Christmas letters to Santa Claus. There are elves and nativity scenes, sensory stalls with fragrance discoveries and Christmas stories in Danish, German and English. And then there's peace and quiet. Peace for contemplation. Time for togetherness. Togetherness to enjoy Christmas shopping in the many shops, or to enjoy yourself in one of the town's cafes/restaurants.
And the Varde Christmas elves – unique, traditional and original – hanging in their usual places. Side by side, they fight for attention, which can be difficult when there are so many of them. Every one is different. Every one has a very special look. Every one reflects life and trade in the old market town of Varde.
Santa is snoring up in the old town hall attic. He has done so since last Christmas, but every year, on the last Saturday before December, he is awakened by the many children shouting at him in chorus, so true to tradition, he can sprinkle Christmas magic over Varde – the City of Elves –together with happy helping elves and Nissegarden (marching band).