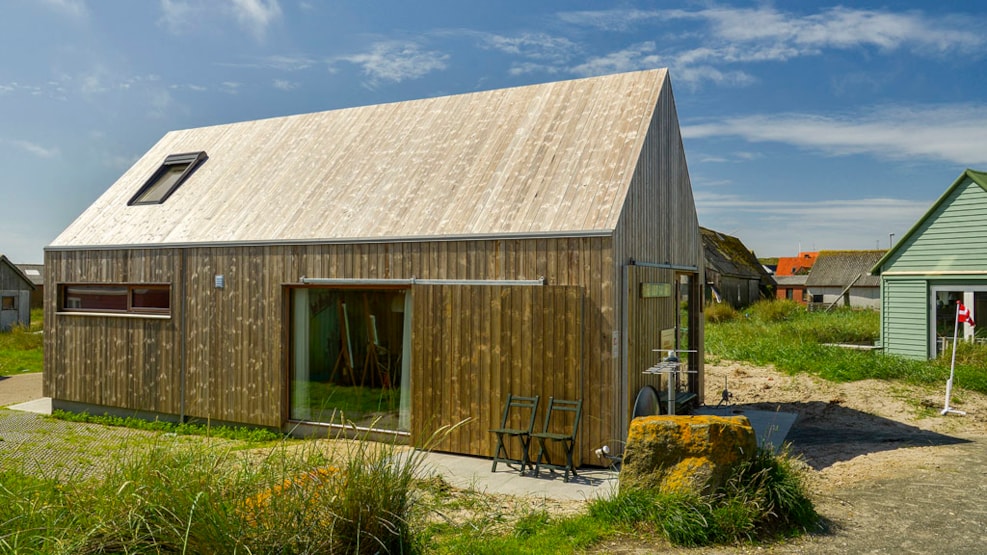 Artist residence ART 56
If you would like to observe an artist at work, then visit the artist residence at the German harbour in Hvide Sande. The gallery is open every Sunday to Thursday from April to October. There will be a new artist every 14 days throughout the period.
ART 56 is open from Sunday to Thursday from 12:00 – 16:00, through October 27th.
It is a beautiful little 50 m2 tree house, which is a living and working workshop. Each artist will live there for a maximum of 14 days, then a new artist will arrive. Before departure, everyone must leave their own mark on the house in the form of a small painting or similar.
As in Skagen, Hvide Sande has a special light seen with artistic eyes – this is due to the water on both sides of the city, which reflects all light without reflection from large trees, for example. This has inspired many performing artists for many years, and there are lots of paintings/images from the small fjord ports around Ringkøbing Fjord and the North Sea.
The house is built in the same style as the old tool houses in the area. The pine-clad exterior – treated to be hard and maintenance-free – is an environmentally friendly alternative to tropical wood, while windows and doors are mahogany and the interior has an epoxy-clad. concrete floor. The local holiday home rentals have built and "manage" the house.
"There has already been great interest from visitors, and we are in no doubt that when the many loyal guests spot that there is a living workshop with life and activity, which is also beautifully located in the authentic fishing environment in Tyskerhavnen, they will come back to follow the work of the changing artists," says Henning Davidsen, who has been project manager at the house.
Period, name & artform
31 March - 14 April: Ulrike Schreiber (painting/visual arts)
14 April - 28 April: Bente Carstensen & Palle Lindgaard (painting/sculpture &photography/graphics)
28 April - 12 May: Lone Keilberg & Susanne Gemmer (jewellery/painting)
12 May - 26 May: Flemming Rendbo (painter)
26 May - 9 June: Britta Enemark Olesen (visual artist)
9 June - 23 June: Tommy Hjortkær Hansen (photographer)
23 June - 7 July: Sofie Bergman Munk (draftsman/painter)
7 July - 21 July: Linda Orloff Aggerholm (photographer)
21 July - 4 August: Eva Bay-Jørgensen (painter)
4 August - 18 August: Helle Koch (graphic artist)
18 August - 1 September: Anja Moos Wagner (sculptor)
September 1 - September 15: Gine Preetzmann (visual artist)
15 September - 29 September: Anne Bundgaard Graphic (designer)
29 September - 13 October: Birgitte Lykke Madsen (visual artist)
October 13 - October 27: Lena Kaufmann (painter)