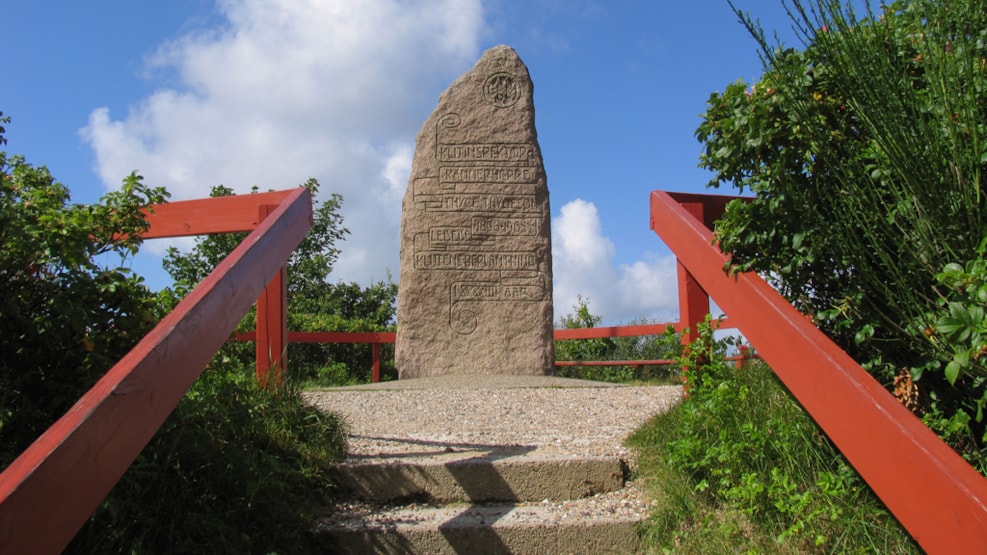 Blåbjerg Stenen
Blåbjerg Stenen is located on the country's highest dune 64 m above sea level and was erected in memory of Chamberlain Thyge de Thygeson, who in the period from 1861 to 1899 was head of the dune service.
In the period 1869-1890, Blåbjerg Plantage was planted. As a thank you, the population therefore erected a granite stone in honor of Chamberlain Thyge de Thygesen's great work with the planting of the plantation. The stone was to be of Bornholm granite, which was sailed from Bornholm to Esbjerg, and from there transported by horse-drawn carriage to Blaabjerg Klit.
On the front of the stone is engraved "Dune Inspector Chamberlain Thyge de Thygesen (1806-1905) led the Dune Plantation for forty-four years ". On the back of the stone it says: "Where there is will, there is way ".
The dune itself is 64 m high, and is a moraine hill covered with sand. From the top of the dune there is a unique view of the area, and in clear weather you should be able to see 21 churches, including Ribe Cathedral. The dune has in ancient times been used as a bean mound and sea mark.
Blåbjerg plantation was planted to dampen the flow of sand. The plantation itself is approx. 1,800 tdr., And consists of a large wildlife.