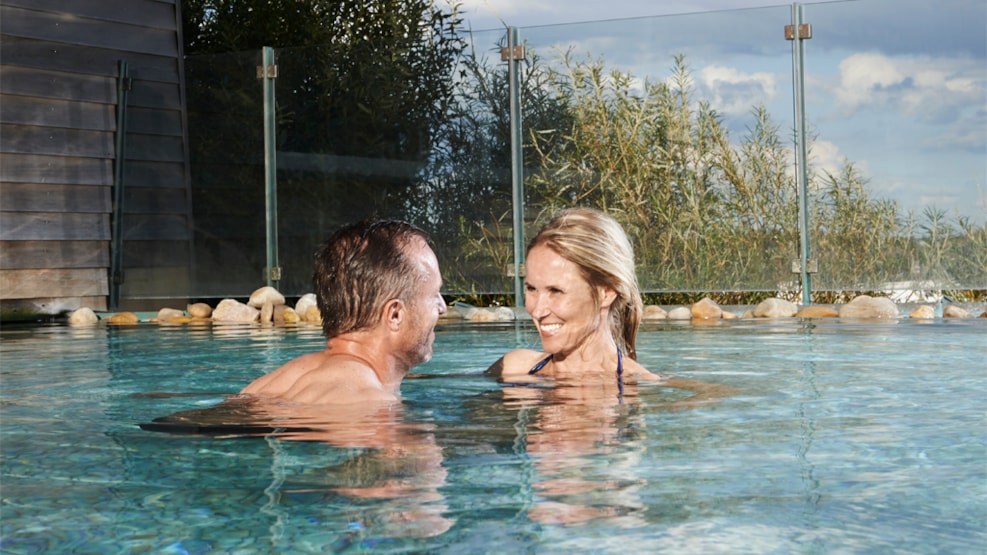 Blåvand Spa & Wellness
Looking for some pampering? Throw the hustle and bustle of everyday life over the edge of Blåvand Kurbad & Wellness's many hot and cold pools, steam baths and saunas, and let time stand still in head-to-toe luxury.
Float weightlessly in wonderfully soft, temperate water with underwater music in your ears. Lose your gaze in the glow of the fireplace. Wrap your body in herbs and minerals in steaming baths. Wake up the limbs with ice from the ice well. Immerse yourself in the 40-degree water of the grotto.
Massage your feet on the pebbles in our 20-metre-long, cold stream. Breathe in the fresh sea air in the bubble pool on the terrace and gaze happily into the North Seascape.
Saunas:
Open-fire sauna, Soft sauna, Infrared sauna, Mineral sauna and Panorama sauna
SaunaGus, free of charge every day, at selected times
Pools, etc.
Outdoor pool, outdoor spa, cold-water pool, warm-water pool, spa pool, heated benches, special baths and foot baths with heated benches
Steam baths: classic steam bath and Rhassoul/herbal steam bath
Remember to bring bath shoes/swim sandals, a water bottle and an extra towel for sauna use.
Treatments:
At Blåvand Kurbad & Wellness, you can also enjoy treatments, spa experiences, massage and pedicure. Book your treatment in Blåvand Kurbad & Wellness well in advance of your visit to ensure that we have time for you.