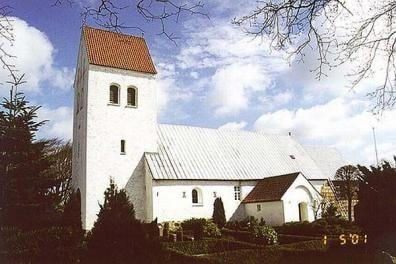 Bølling Church
The church at Bølling is made in Romanesque design and dated back to the 12th century. In the Middle Ages, the church was consecrated to John the Baptist. The church is situated up hill with a clear view of the valley of Skjern-Å.
A burial mound is placed in the cemetery.
The church is made of ashlar and raw granite boulder. The present tower was made in 1916. Since 1905, the floor beneath the pews has been made of board and the nave has been stone flagged.
In 2000 the church had a new organ and the stone flagged floor was renewed.
A couple of end pieces of ancient and very elegant chairs can be seen in the church. The year 1583 has been carved into the chairs; the initials I.L. (Ivar Lunge) is carved into one of the pieces and the other piece carries the initials KB. (Karen Bryske) along with the coat of arms of the two families Bryske and Bille.
Since 1578, Ivar Lunge was the owner of Slumstrup and at his death his widow, Karen Bryske, took over. Later on, she married Henrik Bille, who was registered as the owner of the church.
On the south wall of the choir, a window for the lepers has teen placed; this is connected to "Helligkilden" (the spring of Caper) that flows between the church and the old rectory.