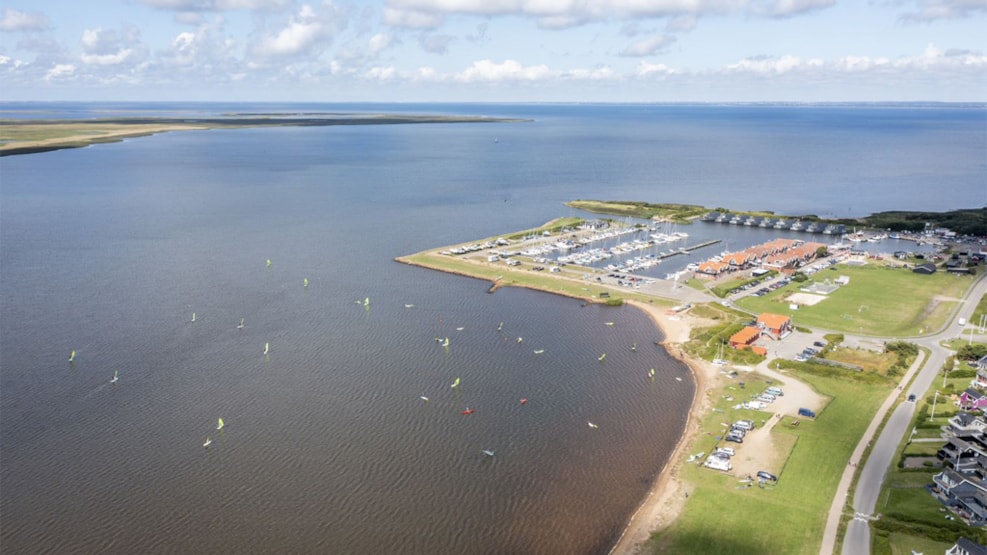 Bork Havn Local Trade Association
Bork Harbour, founded in 1933, was originally a small fishing harbour. Today, the harbour has been expanded and can now accommodate both pleasure boats and houseboats. Bork Harbour is the place to go to enjoy water activities and the wind in your hair.
If you're looking for versatile and inspiring holiday experiences, Bork Harbour is the perfect place to visit. It has activities for everyone. You can go back in time and experience the atmosphere in Bork Viking Harbour, experience nature and wildlife around the Tipperne and Skjern Enge, the areas here are part of one of Northern Europe's largest nature restoration projects.
If you are into water activities, there is plenty of fun for both children and adults with WestWind, who offer courses in e.g. Kayaking, SUP, windsurf, kite surf, etc. A lovely way to see the sunset is definitely from the water. There is plenty of ice cream to eat at the harbour, and if the weather calls for indoor activity, Bork Legeland, which has 2,500 m2 of fun for both children and adults, can easily make the hours pass quickly. At the beginning of August, the annual festival takes place, where people gather from near and far, enjoying the music and atmosphere that spreads from the festival area to the harbour.
Bork Harbour has many cosy spots, where you can eat your own picnic on a lovely summer's day, but the harbour's cafes and eateries also offer varied food at attractive prices. If you want to shop for delicious treats for your summer cottage, you can do so at the local grocery store.
All in all, Bork Harbour is well worth a visit, and combined with the many summer cottage rentals on offer, can help create the perfect holiday.