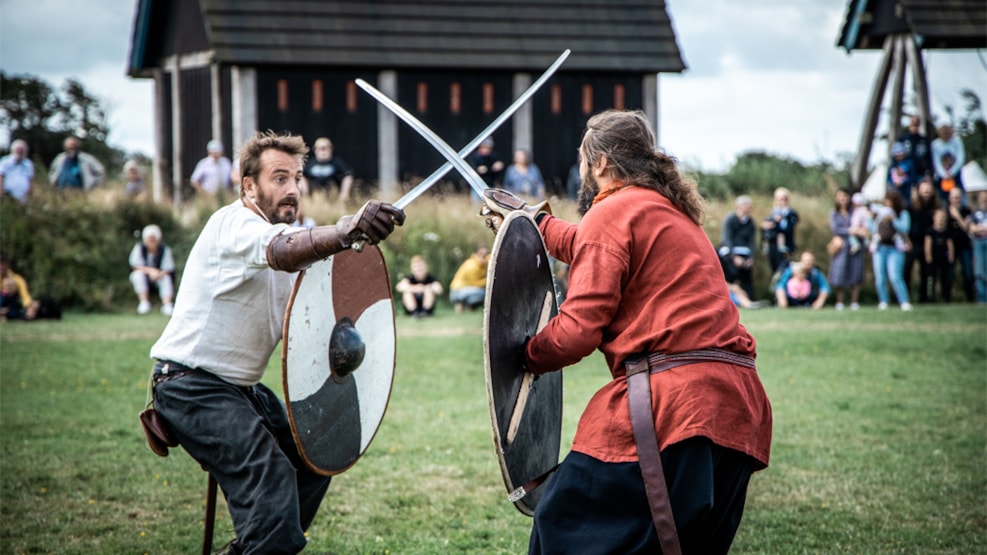 Bork Viking Market
The highlight of the year at Bork Viking Harbour is the Viking market. Say hello to the Vikings who have brought their handsome, authentic craftsmanship with them. Be a part of the fun as the Vikings ride in beautiful formations...and watch out when the warriors get rowdy!
The entertainment group Ramashang sets the mood when Bork Viking Habour opens the gate. Welcome to Bork Viking Market! Try your hand at archery, bake flatbread at the mill and watch as the vikings fight on the market square – and much more.
The warriors fight
Experience the Viking Harbor's best warriors fighting in duels on the market square. Make sure to pay attention their techniques - they are based on historical sources of combat technique and tactics, and you might have to fight yourself! Try holding one of the weapons of the Viking Age or practice your archery skills.
Viking market
The volunteer Vikings spend many years improving their skills in e.g. plant dyeing, blacksmithing, pewter casting and jewelry making. Take a walk around the market and listen to all the sounds of hammering on pewter and clothes being wringed in water. You are welcome to ask the vikings about their crafts - they are very happy to tell you about their techniques.
Experience the horses of the vikings
Meet the Viking Cavalry Kongsgaard at the Viking market and see their impressive horses. The Viking Cavalry rides on Icelandic horses - the closest we get to the vikings' own horses. So when the Viking Cavalry rides off, it is almost like experiencing what the vikings and their horses looked like when they rode into battle. The riders let the beautiful, powerful animals walk in different formations to show the horses' special gaits.
Get a taste of the Viking Age
Café Kølsvinet at Bork Viking Habour is inspired by viking food. Take a seat at the high table in the viking hall or take a rest outside and have a delicious viking food experience before your expedition continues around the harbour.