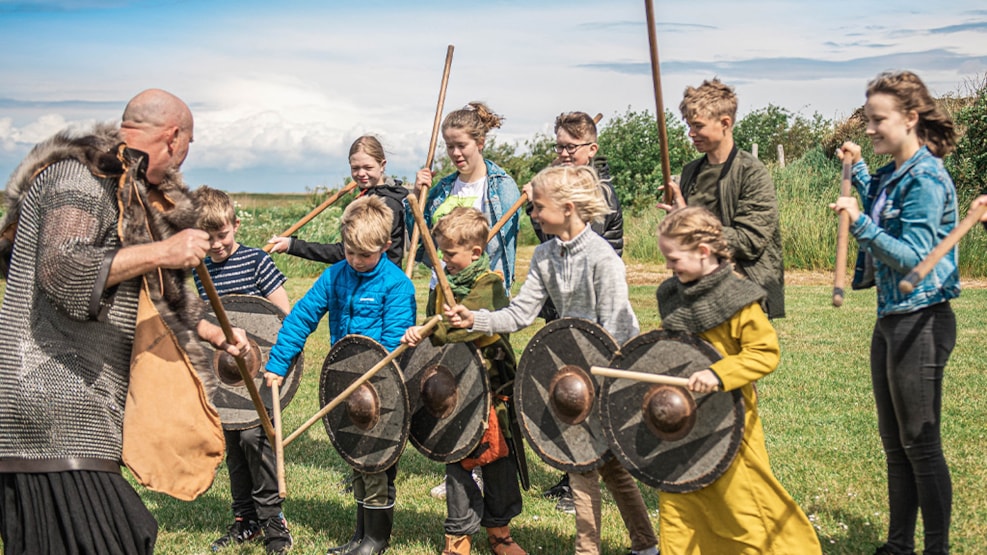 Bork Vikingehavn
When you step through the gate to Bork Viking Harbour, you step 1000 years back in time. You can walk around the reconstructed long-houses and see how the Vikings lived and worked different kinds of craftsmanship.
Light a candle in the beautiful stave church or place a sacrifice at the sacrificial grove and see the handmade Bork tapestry. If you visit Bork Viking Harbour when there are extra events and living history, all your senses come alive and the kids get to try out the different activities. If you pay Bork Viking Harbour a visit during a more quiet period, you'll have the time and space to pay extra attention to the craftsmanship and the beautiful details in the Viking houses.
Cafe Cologne
Bork Vikingehavns's Café Kølsvinet is open every day of the season. You can enjoy the Viking-inspired food both indoors and outdoors. You are also welcome to bring your own food.
Nice Viking shop
Visit the Viking shop to find delicious delicacies, jewellery, books and other Viking-inspired items. There is free admission to the store.
Peak season
During the high season, the whole family can try out different fun activities. You can make beautiful bracelets with runes and try your hand at archery, like the Vikings. If you're a bit hungry, you can bake a flatbread, and of course you can try the Viking playground and decide who is the coolest Viking in the family.
Children and young people up to the age of 18 years have free access accompanied by an adult and dogs on a leash are welcome.
To find out more about Bork Vikingehavn, opening hours, prices and events, visit borkvikingehavn.dk or follow us at www.facebook.com/Borkvikingehavn
Bork Vikingehavn is part of the Ringkøbing Fjord Museer, which has many places to visit around Ringkøbing Fjord. Read more about the museum at www.ringkobingfjordmuseer.dk/en.