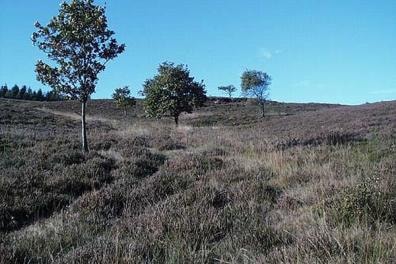 Dejbjerg Plantation
Dejbjerg Plantation is a nature area close to Skjern, Denmark. Fill up your water bottle, go for a walk on one of the many hiking trails and experience the Danish nature and history.
Dejbjerg Plantation is a plantation or forest and a popular excursion spot near Skjern and Lem in Western Jutland, Denmark. The area offers three hiking trails of different lengths. During your trip, you will pass several local landmarks.
Dejbjerg Plantation was established around year 1900. From 1903-14, a prison colony from Horsens Prison visited the area. The prisoners planted a large part of the plantation. Easter Sunday, 1932, 80 hectares of the area burned to the ground. Again, it was the prisoners, who rebuild the plantation. In May 1947, the plantation was once again on fire. In less than two hours, 80 hectares of the area had burned down. This area has also been replanted. In the plantation, you will find a memorial of E.M. Dalgas, who was the pioneer of the heath cultivators after 1864, famous for his words: outward losses must be made up for by inward gains.
From the memorial, which is placed on a hill near Skovbjerg Bakkeø, there is a great view of the heath landscape and Ringkøbing Fjord. You can see Holmsland klit and Varde Bakkeø in the south. The area is beautifully surrounded by heather and softwood forest.