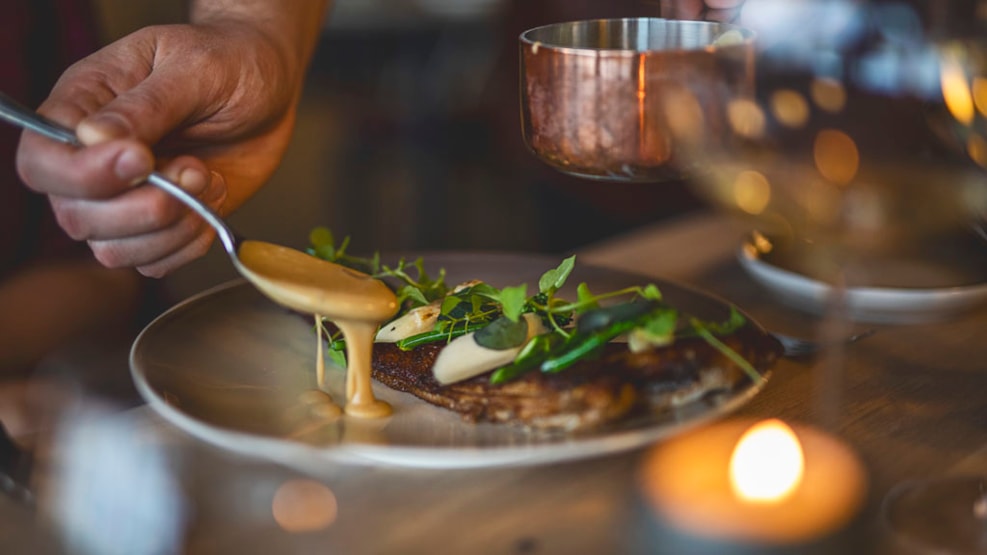 Fjordgaarden Restaurant
Sit at the table and have an experience - that is the biggest goal of the food at Fjordgaarden. That is why the food on your plate here at this restaurant contains more than protein, fat and carbohydrates. 
We have thought through your meal and taken our local suppliers with us into the kitchen, where it all takes place ... To ensure you the best feeling of West Jutland, after a wonderful day in the nature or in Fjordgaarden's spa. The restaurants ingredients are primarily Danish and you will meet and taste freshly landed fish from Hvide Sande, carefully selected cuts of meat and lots of seasonal fresh fruit and vegetables from our suppliers. Because we trust that they can help us to give you - the taste of the new Danish cuisine and the taste of West Jutland.
From cutter to kitchen and from ground to table. Every step of the way is important ... We work closely with our suppliers and it gives us high quality to work with. In the kitchen, we lovingly take care of the ingredients and make sure that they reach you with taste and power intact. Local ingredients give us a good and fresh starting point. They deserve respect and enable us to think sustainably right from the manufacturer to your plate.