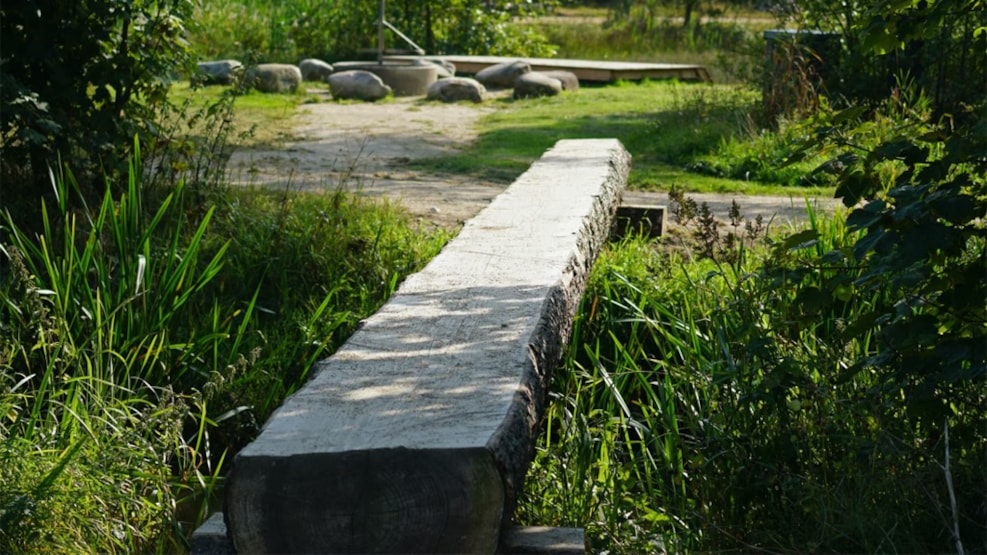 Forsøgshaven in Tarm
Forsøgshaven in Tarm is a garden that offers activities and experiences for big and small visitors alike. If you are exploring with the family, it makes for a great spot to spend a day in the fresh air and enjoy some quality time with each other.
Forsøgshaven was established by the Tarm Residents' Association back in 1921, offering locals a scenic environment with a bridge going over the canal as well as an orchard. Today it boasts many different activities and events for all the family to enjoy regardless of age, and it makes for a great spot to head out and enjoy a picnic. If you want to cook over an open fire, head over to the lake and the peninsula area where you can gather with family and friends and use the barbecue pits, or bring your own barbecue along and make yourself comfy at one of the picnic tables.
The garden was recently taken over from the municipality by voluntary association Team Grå who launched their Project Forsøgshaven Version 2020, with the new garden then opening for the first time on 7 August 2021. The project was supported by the following funds: Nordea, Sydbank, Velux, VGT and support from local citizens and benefactors.
Activities at the garden
The garden is home to a whole 21 different obstacles which have been designed for all ages to enjoy. The obstacle course is spread over approximately 1000 metres and is made from Danish timber. Tackle them however you like, but remember that all use is at your own risk.
Are you good at keeping your balance? Planks in several places connect both sides of the creek. They also make for a good spot to sit and chat about everything under the sun while the water courses beneath you.
At the centre of the garden, you will find a playground with sandbox, swings and even a couple of enticing musical instruments. So unleash your inner musician, draw some inspiration from your surroundings and play to your heart's content. The playground also has a sensory path for younger visitors. Little ones can explore it in their bare feet and experience different textures beneath their toes.
Bring along a ball and enjoy the ball-game areas where you can not only play football, but also beach volleyball or handball on the multi-purpose court.
Explore the forest and all the activities it offers or find the seven birds drawn by artist Ulla Haussø and inspired by the birdlife in the Skjern Enge wetland reserve. The birds, named Holger, Oluf, Palle, Ejner, Thyra, Asta and Dagmar, are located throughout the garden. Stop and read a fairytale about each of the birds by scanning the QR code.
If you are more interested in exploring and learning more about the local flora and fauna, then you may be more interested in the flowerbeds with their grasses and perennials, the waterhole with its big stones for frogs and insects, the wild grass and flowerbeds or the beehives and insect silhouettes that can be observed in the small, wild forested areas. You will also spot information boards and posters with facts and details about nature and biodiversity.
The garden is also home to an open-air stage and a large and accessible recreation area. Here you can seek out shelter should the weather turn bad on you and use the picnic tables to enjoy your sandwiches or afternoon tea. If you want guaranteed access to the open-air stage for a specific occasion, you can reserve a spot via the booking calendar here. Reservations cost DKK 250 and if it turns out that the stage is already booked, you can use one of the garden's other seating areas – just so long as you give way to guests with a booking.
There is a car park on Bisgårdvej as well as toilet facilities. The toilet facilities are open during daylight hours and include accessible toilets.