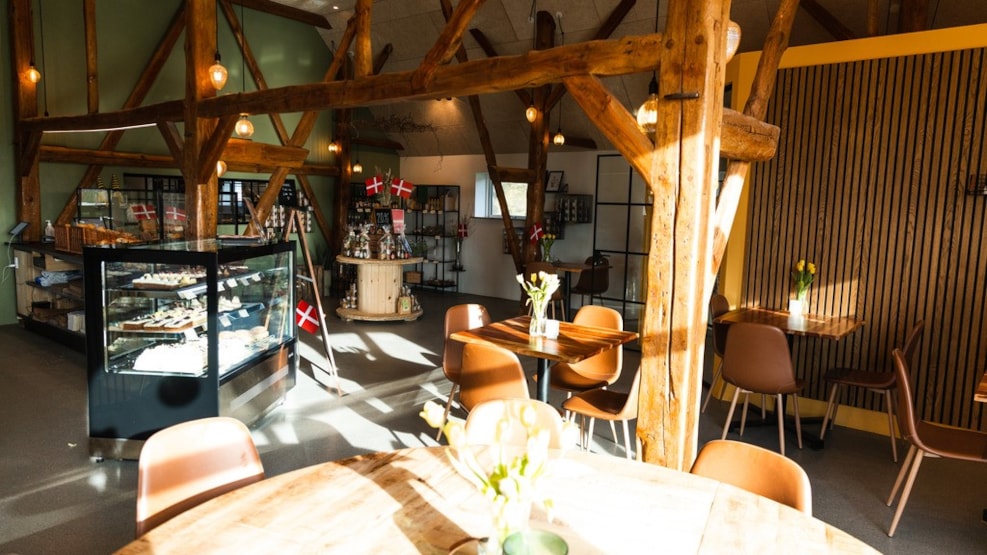 Gaardbageren - Bread, cakes and specialities
Welcome to Gaardbageren - a cosy local bakery that puts heart and soul into making perfect recipes, so you can be sure to get quality baked goods when you visit us.
Here you can take a well-deserved break in the cosy café and enjoy our tasty bread and cakes with a good cup of coffee.
Gaardbageren is a small family business in the heart of West Jutland, near Ringkøbing. They started their adventure in April 2022 as a consequence of the closure of the mink industry in 2020. After being mink farmers since 2013, they took the plunge and turned their fur farm into a bakery.
Camilla, a trained baker since 2012, has always dreamed of being self-employed. So when they decided to close the mink farm, they immediately started working on establishing Gaardbageri in the middle of the countryside. The goal was to rethink the industry and create a more sustainable bakery with a focus on minimising food waste, using Danish ingredients and offering their employees a more sustainable workplace with less weekend work and night shifts.
Gaardbageren has an idyllic location in the middle of the countryside, where there is also a self-service counter at the entrance. This means you can get freshly baked bread to take home almost every day.
If you have a special occasion, you can always order bread and cakes from Gaardbager. They are ready to help and guide you, whether you want a delicious sourdough bread or a beautiful wedding cake.
Gaardbageren looks forward to welcoming you!