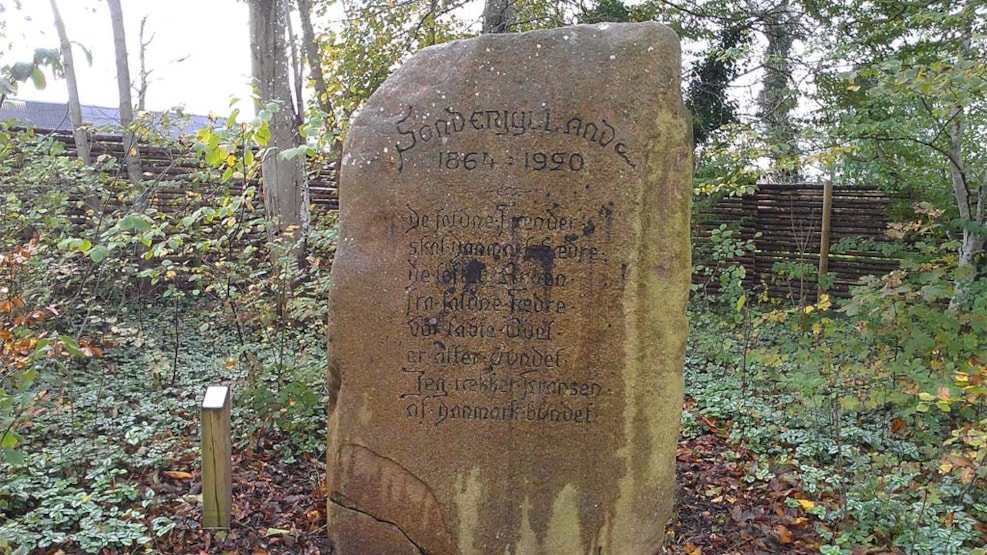 'Genforeningsstenen' ('The Reunion Stone') in Skjern
In the southwestern edge of the playground in the facility at Kirkeskolen / Fredensgade in Skjern you will find the reunion stone. The reunification stone was erected on 9 July 1921 by Skjernkredsen's Member of Parliament, and is in memory of the old Duchy of Southern Jutland, which was united with Denmark after a referendum.
The unveiling of the reunification stone in Skjern took place on 9 July 1921 by Skjernkredsen's Member of Parliament, former Minister of the Interior Sigurd Berg. Head teacher Edsen Johansen wrote the text and the drawing for the stonemason. The stone itself was donated by farm owner Anders Johansen from Faster parish, where it was in the gravel pit.
Originally, the stone was donated in the middle of the city, where the square was fenced with hewn granite stones, connected with iron rods and planted with flowers and shrubs. Around 1950, it was moved to its current location at the playground in the facility with entrance, where St. Nørgårdsvej opens into Fredensgade at 6900 Skjern.
The stone is in pink granite, and measures 1.1 m. In thickness, 1.4 m. In width and 2.05 m. In height. In the stone is inscribed: 
"Sønderjylland 1864-1920 De: faldne: Frænder skal: Danmark: hædre. De: Løfted: Arven fra: faldne: Fædre Vor: tabte: Odel er: atter: vundet. Jeg: rækker: Kransen af: Danmark: bundet".