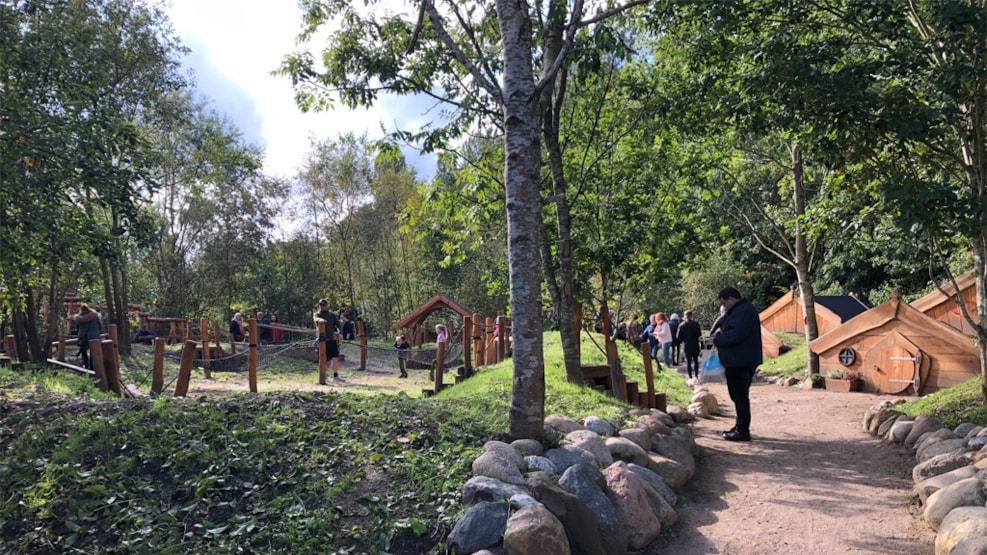 Gl. Varde Sommerland
This twelve-hectare nature reserve offers plenty of activities for all the family. It has everything from wild shelters and playgrounds to paths with obstacles along the way, barbecue huts, toilet facilities and various relaxation oases.
The area is the former home of the Varde Sommerland amusement park and had been neglected for ten years before a group of volunteers began clearing up and developing the site. Now it has been transformed into a recreational nature area offering a range of facilities free of charge.
This hidden gem is brimming with different activities as well as seating areas for anyone who wants to kick back and linger with a packed lunch and some coffee, immerse themselves in the environment or relax as the kids give free reign to their imagination and burn off some energy.
Fitness fans can use the nature fitness route for their daily workout, kids can explore the Home of the Giants or the Valley of the Little People while others can enjoy a peaceful moment while contemplating views of Varde Enge and Varde Å. Canoeists and other guests can even camp out in the wild shelters and prepare meals in the barbecue hut. There are picnic tables dotted throughout plus an area with two wild shelters, toilet facilities and a firepit with firewood and enough space for up to 15 people. There is also another separate area with a cabin with fire pit, three wild shelters and picnic tables. It is not possible to book the wild shelters in advance. If you are travelling by kayak, canoe or rubber dinghy, you can come ashore and spend the night here.
Children can enjoy a fun and whimsical playground that is sure to inspire and encourage their imagination. The playground is made from natural materials and features mounds staged to look like heads sticking out of the ground. Their hair is a labyrinth of inverted tree roots, stones, grass and hazel. One of the giant's features a game of tug of war running through his nostrils and musical instruments that you can play at one of the ears. Meanwhile, brave souls can crawl right into the other ear – going all the way to the giant's brain! It is formed like a little amphitheatre with seating. Children can sit down together and tell stories about witches, goblins, hobbits and all sorts. And speaking of hobbits, that is exactly what you'll find in the other part of the playground. The little hobbit town is organised around a square where you will find engravings of whimsical faces. The faces are just one element at the playground which reference the fairytale universe of local painter Otto Frello. His world is sure to awaken a sense of wonder and spark the imagination – not just in the kids, but in adults, too.
The park is also located close to the coast-to-coast hiking trail and Arnbjerg Parken, where you will find Varde Miniby, a miniature version of Varde. The market town itself is 700 metres away and offers ample opportunities for shopping, eating and exploration.