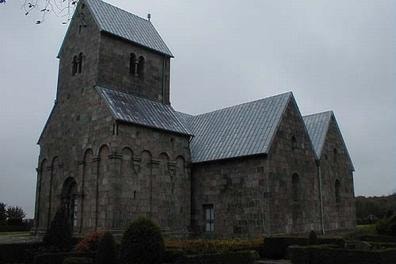 Hee Church
Hee Church, with its distinctive tower, is one of the country's most significant Romanesque buildings, despite a heavy-handed restoration in 1882-84.
Probably built in the 1140s, the tower around 1200. The church was once a manor church and was probably built by decision on the neighbouring farmstead south of the church. Romanesque chancel and nave (granite ashlars) with two late Gothic extensions to the south (Romanesque style - built from granite ashlars from the collapsed No Church, which is why the extension is still called 'No Church') and a High Romanesque west section, whose lower storey is the same width but higher than the nave. The upper storey is the somewhat narrower tower end (granite blocks). The west section in particular (dismantled to the ground and rebuilt in 1882-84) has well-preserved Romanesque details, the walls are divided by pilasters in narrow aperture fields with small round arches. The west portal has free columns and a tympanum with a double lion. A little above the portal are a pair of protruding, grotesque lion heads. In the middle storey of the tower section are some small rooms which, among other things, have housed Hind Herred's archive. The altarpiece is an impressive late Renaissance work from 1635. In the chancel is a deacon's chair bearing the arms of Juel and Munk (late Gothic style, the year 1523 engraved) and a priest's chair (rich Renaissance chair from around 1600).
In the nave hangs a good Gothic chancel crucifix from around 1450. In the west arcade between the nave and the south chapels, there is a beautiful monstrance cabinet (a Catholic-era hiding place where the host was stored and displayed during services) from around 1460 with a lattice door and door, which bears a painted depiction of Christ as the man of sorrows and the arms of Peder Skram and Ellen Krag.
The church is open on weekdays from 8 to 16.