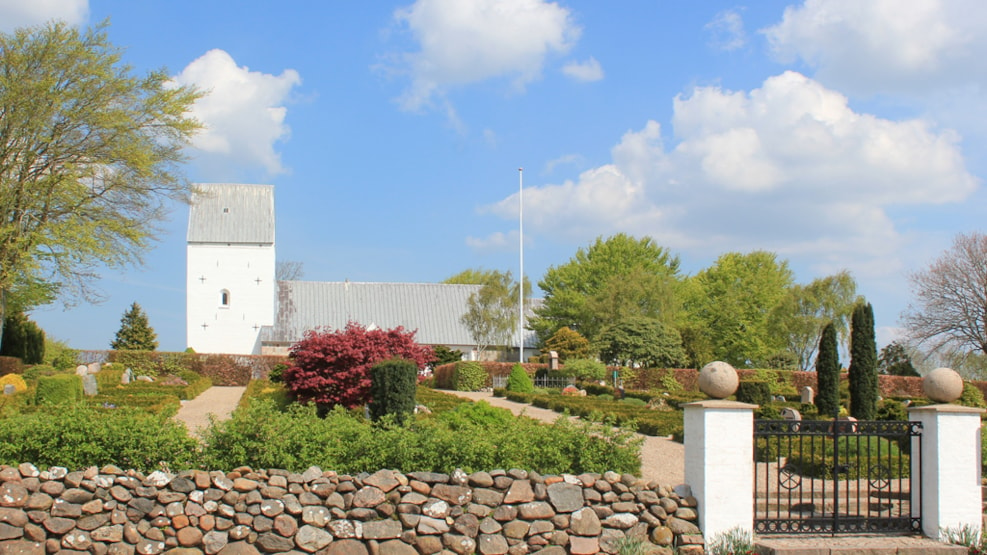 Henne Church
Henne Church was built in the second half of the 12th century, probably by the Ribe bishop Elias, who owned Hennegård, an episcopal estate until the Reformation. The church has an exciting history, which is reflected both inside and out.
Henne Church is located on a beautiful hill at Filsø.
The parish is first mentioned in 1291, and already in 1154 there was an episcopal manor in Henne by the Ribe bishop Elias. The Romanesque choir and nave were extended both in the east and west as early as around the year 1300, and the porch as well as the tower were added in the 15th century.
Originally, the church had a beamed ceiling, and that part was vaulted around the 16th century. The highest point in the church is found below the center of the nave, of which there is a steady fall to the east and south. Around the cemetery it is bounded by old grassy dikes. In the cemetery you can find old tombstones from drowned and ashore sailors.
The porch and tower were probably built sometime in the 15th century. In 1910, a sample covering of walls and vaults revealed frescoes from two periods. The first is from around the 16th century and the second is from around 1776 and is two coats of arms.
Her Church also includes rich furnishings, such as remarkable pieces, most peculiarly the altarpiece with three paintings by Catholic officers from the Imperial War in 1927-29. The mainstay of the church is an almost complete medieval furnishings. It includes, among other things, the Romanesque baptismal front.
The church's altarpiece consists of late Gothic wing altarpiece from around the 16th century, and has since experienced several renovations.
The pulpit is from 1973, and was donated by Hartvig Staverskov, Hennegård.
Find more information about the calendar and more on Henne Church's website