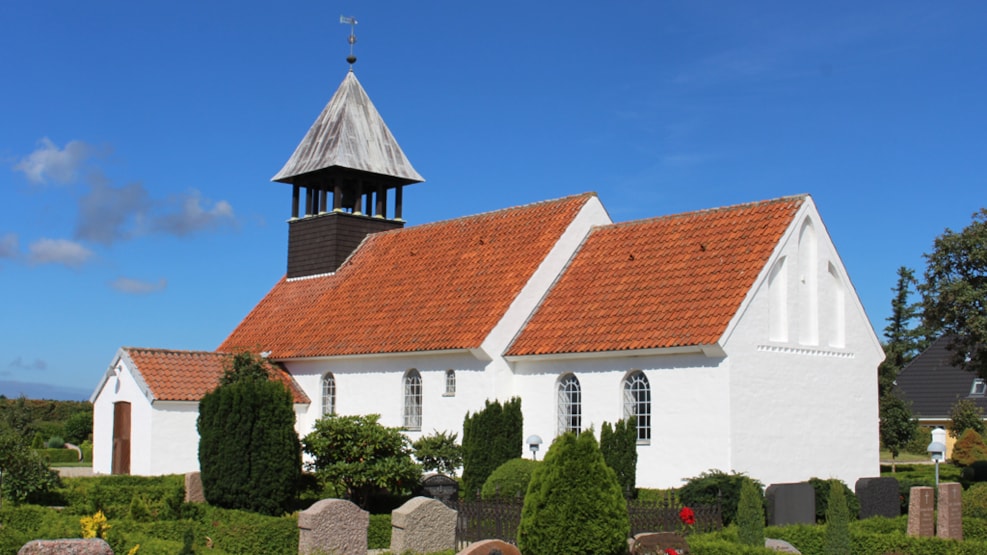 Ho Church
Ho Church is a Romanesque church, built of monk stone and built in the mid-15th century. The church has one of Denmark's oldest nave from around the beginning of the 17th century, and is beautifully situated in the western part of Ho.
Ho Church was built in the mid-15th century, and is located on a hilly terrain in the western part of the small village of Ho and half a mile from the West Bank of Ho Bay. From the bell tower you have a clear view over the bay to Billum, Janderup and Houstrup.
The small low brick church consists of a choir and nave as well as a porch from around 1820. The church has a traditional Romanesque plan with doors in both south and north.
Inside, the church has an altar table with a filling panel of pine, which is probably from 1753. The altarpiece itself is from 1753, and is a mixture of late Renaissance style and rural Rococo. At the altarpiece there is a crucifix group and apostle figures, which are carved in wood from the late Gothic altarpiece around the 1500s and are distributed in the church, among others on the pulpit.
The pulpit is from the Renaissance period, and is made of recycled material from medieval furniture pieces. The current prominent position of the pulpit is primarily in the year 1753.
Ho Church's church nave is from the early 1660s, and thus one of Denmark's oldest. It is unnamed, and is a warship with 24 guns and is 78 cm long. The ship has original color scheme, which is dominated by brown with gold above the undulating waterline. The nave was donated to the church around 1710 by the clerk Laurids Hoe.
Find more information on Ho Church's website.