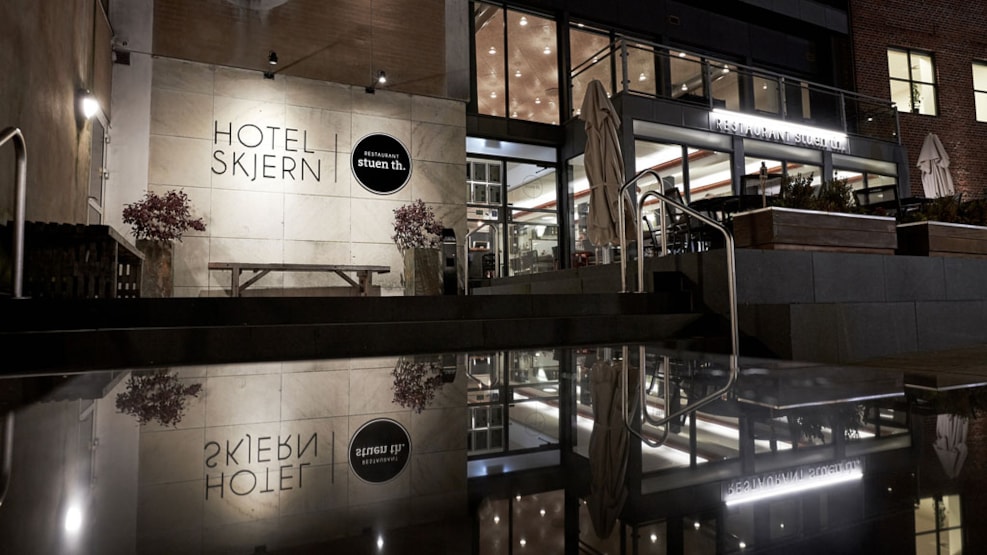 Green Experience
Hotel Skjern
Get an extraordinary experience at Hotel Skjern.
Hotel Skjern is a small cozy and modern hotel located next to Skjern square. The hotel focuses on personal service and a "down-to-earth" atmosphere. 
Hotel Skjern is a cosy hotel in the centre of Skjern in the main plaza. It was fully renovated in 2015 and has 21 modern rooms which all have their own bath and toilet, a continental double bed, a flat screen TV, and free WiFi.
The Hotel restaurant Stuen th. offers great food in cosy surroundings. Our food is cooked from scratch with lots of love. We prioritize local produce and specialities. We are open both at lunch and in the evenings every day of the week, and we have a wide selection of special brews, glass bottled wines, and cocktails.
Hotel Skjern has excellent facilities for parties, business meetings, and conferences. The newly renovated rooms can accommodate between 5 and 120 people, and the hotel offers both traditional and experimental menus for any occasion. 
Hotel Skjern was originally called Centralhotellet. Later, the "mission" overtook the hotel which was renamed Missionshotellet. After that, the hotel was sold again and renamed Hotel Vestjyden. Today the hotel is owned by couple Kristina Bundesen and Christian Rasmussen, who bought the hotel on May 1st 2015 and consequently reopened as Hotel Skjern.