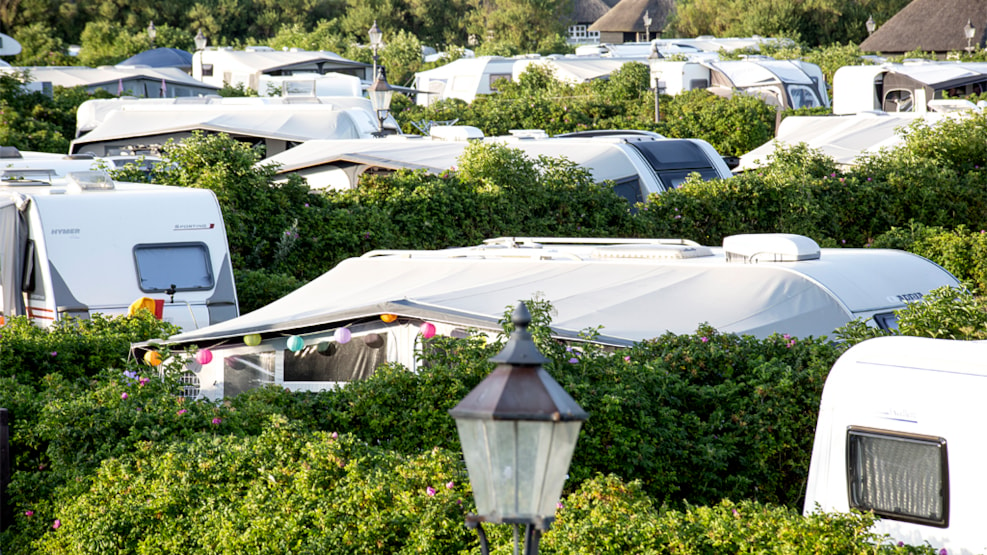 Hvidbjerg Strand Resort
Hvidbjerg Strand Resort is located on the edge of Denmark's most beautiful beach. Slip through the dunes and dip your toes in the warm, mild North Sea. Run out from the beach or jump into the clear, shimmering deep from the long bathing jetty.
Build sandcastles, collect amber, race one another. Feel the wind; taste the saltwater. When darkness falls, a million stars twinkle and a cosy bonfires light up the beach.
Hvidbjerg Strand Resort is Denmark's only six-star campsite and has also been given the ADAC "Superplatz 2022" award with the top five-star rating and recommended by ANWB.
It's a world of oases. You can sunbathe behind a fragrant rose hip bush; battle for the ball on the soccer field; eat an ice cream on one of the many benches around; take a walk and perhaps make new friends; throw a fishing line in the lake; smile and laugh on the many playgrounds; jump on trampolines; dig in the sand; ride mooncars; or find the family champion on the mini golf course.
There is daily access to Play City with Playland and the Trampoline Centre for all our guests and ou can visit the Water Park's several pools, slides and fun activities.
There are also plenty of opportunities to shop at the suoermarket, bakery and fish shop. If you'd rather dine out, there's Restaurant Hvidbjerg, Pizzeria Monte Bianco and Høfde4, and if you're just having the munchies, try the ice cream shop and snack bar in Play City.
Hvidbjerg Strand Resort offers camping with its own spa, for example, and you are unlikely to find more luxurious camping! They also have five XL luxury spaces, which in addition to the private bathroom, now also tempt with a private spa and a terrace with gorgeous lounge furniture. There is room for two caravans, and we dare to say that you shouldn't wait too long before booking your holiday.
Hvidbjerg Strand Resort is much more than camping, it also has:
Cabins 
Western cabins
Fishing houses
Beach Hotel
Beach villas