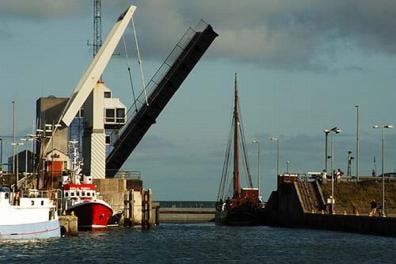 Hvide Sande Sluices
The lock system in Hvide Sande was what started the town, and consists of 2 locks. The locks regulate outflows and inflows between Ringkøbing Fjord and the North Sea, thereby enabling the drainage of several thousand hectares of wetlands around the West Jutland fjords and river valleys.
This is where the town Hvide Sande started. In Hvide Sande you will find to sluices. One to regulate the water levels between fjord and sea and one that provides passage between fjord and sea. Holmsland is the name of the narrow barrier that divides Ringkøbing Fjord from the North Sea.
After 100 years of discussion about a passage from the sea to the fjord, Hvide Sande canal was opened in 1931. It consists of a lock system for ships and a water regulating system. Everything is controlled from "Blåtårn", the blue tower by the lifting bridge. This is the office of the harbour administration and the local rescue team. In the middle of Hvide Sande you pass the two sluices.