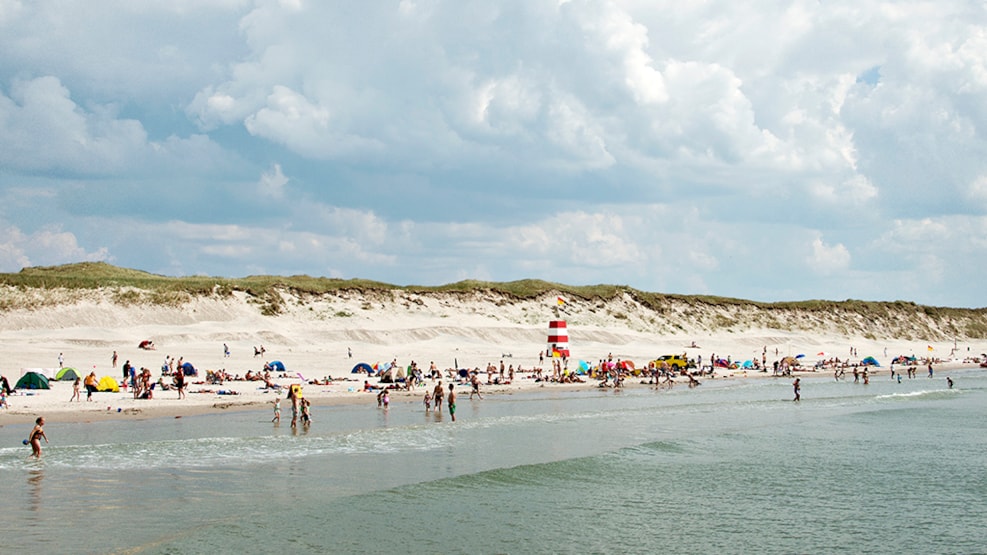 Hvide Sande Sydstrand
Lovely beach in Hvide Sande at the North Sea. On this popular beach, you can surf, take a walk on the pier or relax and have fun in the sand. The perfect vacation spot for children and adults.
Hvide Sande Sydstrand
At the south beach (Sydstranden) in Hvide Sande, you will find miles and miles of sandy beach. Here, you can enjoy the North Sea or take a walk on the pier. The beach was previously elected as the best beach in Denmark. The beach is also known to be a good place for surfing, and you can book a surfing class on the beach if you are ready to venture into the waves. During the summer, there is a lifeguard tower on the beach. You can also find public restrooms, showers, a café, and a parking lot nearby. There is also a parking lot for camper vans. Across the dunes, you will find the town of Hvide Sande, a cozy holiday village that offers shopping, dining, and overnight accommodation.
Vestled, a sculptural installation 
On the beach, you will find the sculptural installation Vestled. The new addition to the sculptural installation makes it possible for baby carriages and wheelchairs to access the beach. The sculptural installation was created by architects and a visual artist, and consists of red tiles, a bronze sculpture, and a rounded piece of dark tiles. One can interpret this piece of art as a symbol of the grandeur of nature.