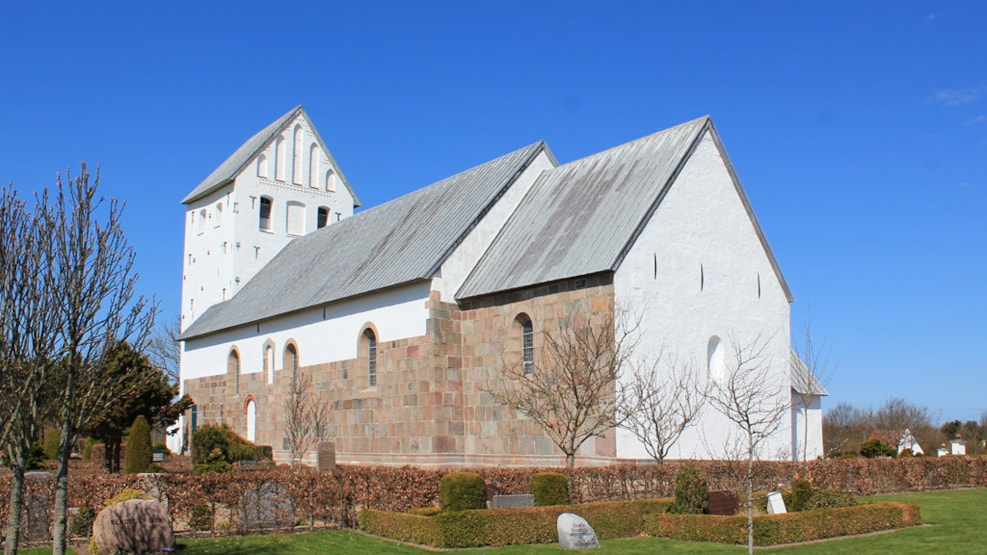 Janderup Church
Janderup Church is situated in the meadows on Varde river. Sometimes, during storms, seawater has flooded the churchyard. The church is Romanesque with tower and late medieval vestry. The vaults are decorated with frescoes by the "Lily master-painter
Janderup church is a Romanesque church with frescoes by the famous Lily Master located close to Varde Å, and the cemetery has been flooded several times so that the stones fell. Near the church is the old charging station and the former ferry yard, Skipperhuset. Together, the three form a picture of past charging environment. The 'red coke mound' in the cemetery is said to be named after an executed killer buried in the mound along with plague victims.
The church choir and nave are Romanesque, the sacristy and the tower from the late Middle Ages. There has previously been a porch on each side of the ship, the last being demolished in 1916.
The old loading dock by the church was formerly Varde market town's nearest shipping point, and was one of the most important export ports for, among other things, Jutland pots. The small preserved cluster of church, inn and charging station gives a unique impression of the environment around the former freight center. In the southwest corner of the cemetery is a small gate, which was used by people who needed quick access to and from the Skipper House and the charging station west of the church.
The lily master's frescoes
The church choir and nave are decorated with frescoes from the late Middle Ages. In the ship, which is decorated by the famous Lily Master, you can see i.a. the painter's characteristic lily decorations with French lilies over triangles with three heart-shaped leaves meeting in a ring. The choir's paintings, including geometric rosettes, are by another painter. The frescoes were excavated in 1936 and restored in 1980.
The church contains some interesting woodwork, including a very beautiful and detailed Renaissance altarpiece from 1645. The altarpiece, made at Jens Olufsen's workshop in Varde, is more than four meters high. The big fields are flanked by the virtue mimics of Faith, Hope, Love, Justice, Wisdom and Strength. The top field is flanked by the Moderation Team and the Chastity. In the niches are figures of Mark and Luke and which sprout Matthew and John. At the top, surrounded by chubby child figures, Christ stands with the victory flag and steps on Death, in the form of a bony man and the Devil, made as a serpent.
The altarpiece paintings of the Last Supper and the Prayer in Gethsemane from the 17th century are attributed to Sten Adamsen and Hans Jensen (or Bølling) from Ribe. The capture on the south side field from 1858 is by E.H. Seidelin. In the top field, the Crucifixion is seen after the sting of Crispin de Passe. From Jens Olufsen's workshop also comes the fountain sky from 1652 with the Holy Spirit dove and the baptism of Christ with the 12 apostles and the text "Let the little children come to me".
Find more information on Janderup Church's website.