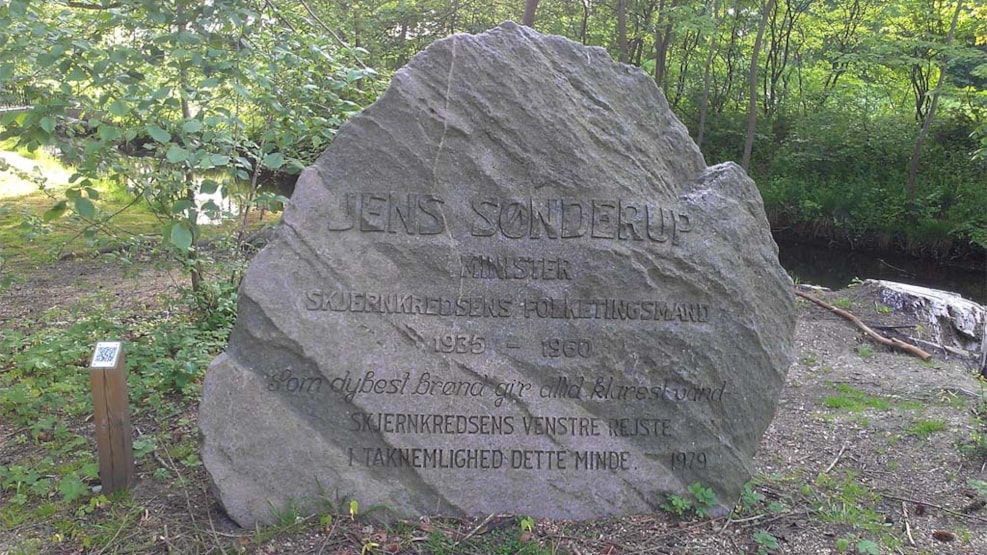 Jens Sønderups Monument
Memorial to MP and Minister Jens Sønderup (1894 - 1978).
The Stone was in 1979 raised by Skjern circuit union. Stonemason is Charles Vendelbjerg, Skjern
Inscription:
Jens Sønderup
Minister
Skjern circuit parliamentarien
1935 - 1960
The deepest well, gives clearest water.
Skjern constituency left wing raised in gratitude this memorial in 1977.
Jens Sønderup was elected to Parliament in 1935 and was a member of this until 1960.
He was labour-and Social Welfare Minister from 24. April 1947 - 13. nov. 1947 under the government Knud Kristensen, who was sitting in the period 07.11. 1945 - 13.11. 1947.
In the government Erik Eriksen he was church minister 1950 - 1951, and Minister of Agriculture in 1951 - 1953.
When former parliamentarian Simon From, Fjelstrup in 1979 unvailed the Stone,he said among other things:
"Should one achieve something at the left wing, then the way went over Jens Sønderup". (Source: Skjern Dagblad 29.12.1979).