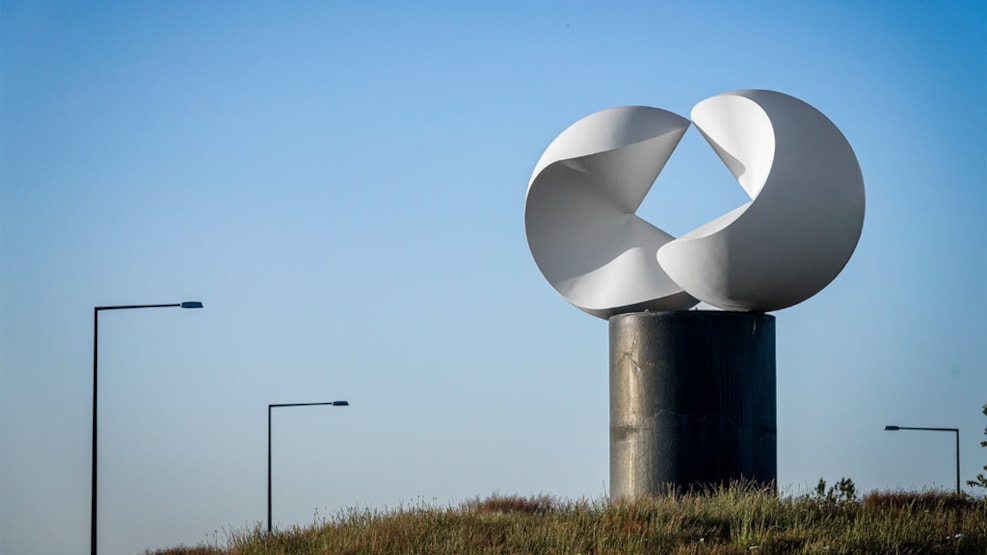 Kysset
Experience the romantic atmosphere in the roundabout in Skjern, where Piet Hein's unique sculpture "Kysset" or "The Kiss" is placed. Light and shadows influence the look of the sculpture in different ways during the day.
"Who have you kissed in your street door?"
That can one rightly ask the town Skjern about. It shares now kisses out to everybody who passes its "entrance" door in the roundabout Holstebrovej/Ringvejen.

A kiss in the form of the beautyful sight of the Piet Hein sculpture to the price of 500.000,- dkr. of which the main part is collected amongst local companies and foundations, as well as in the form of work from various contractors.

The sculpture, there is the only one of its kind in the world, is made on basis of some drawings sketch from sometime in the nineteen sixties.

Terrific as the sculpture constantly appears to change shape and figure, when the sun shines from different directions during the day.
Also gives the artificial light a beautiful shine in the light and shadows on the sculpture. 
The roundabout north, Holstebrovej/Ringvejen, 6900 Skjern.
Artist: Piet Hein.
Built year: 16-12-2005.