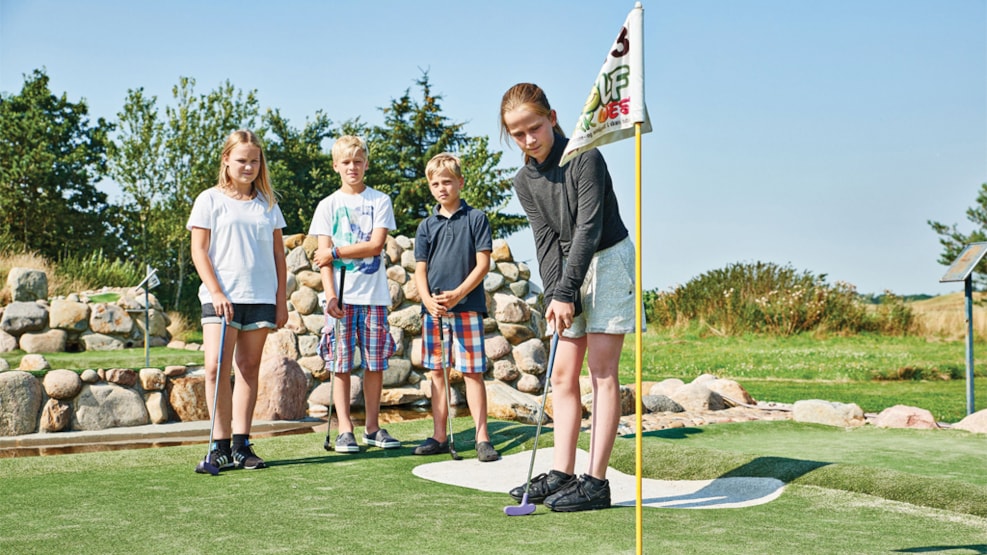 Lindvig Minigolf
Lindvig Minigolf offers a state-of-the-art 18-hole miniature golf course, built in a beautiful park-like area with several waterfalls, flower gardens and the finest stone settings. Here, the whole family can have a fun day of wonderful activities, regardless of age.
Lindvig Minigolf also has a large playground, bouncer, trampoline and multilane. Of course, you can buy a cup of coffee or delicious organic ice cream in the quaint little ice cream shop.
NEW: With the park's "Pay & Play" it is now possible to enjoy a round of miniature golf in the morning, midday and evening! Outside the kiosk's opening hours, visitors will find an open shed with a self-service system where golf clubs, balls and scorecards can be accessed. Before starting the game, you must pay with cash, MobilePay or a Dankort/credit card. 
At the West Coast's largest miniature golf course, there is plenty of room for everyone. All 18 undulating holes are covered in artificial grass and present challenges for both children and adults. All the holes feature a "children's route" and a "adult route" where you can decide whether or not you count as a child.  
At Lindvig Minigolf you can challenge your loved ones with a fun and different round of miniature golf. The course is for walking only and is located in a really nicely laid out area with ingenious tracks and path systems. There are plenty of tables and benches where visitors can enjoy a cup of coffee, their picnic basket or an old-fashioned ice cream from the kiosk.
Dogs are welcome on a leash but should stay on the paths outside the well-cared-for artificial grass pitches. With your ticket to Lindvig Minigolf, you also get access to the area's best playground, with bouncer, trampoline, swings, seesaws, climbing frames and everything a child's heart desires.
Lindvig Minigolf is a fantastic attraction for the whole family and is easy to find on the main road between Nymindegab and Nr. Nebel.
Find opening hours, prices and much more on Lindvig Minigolf's website.