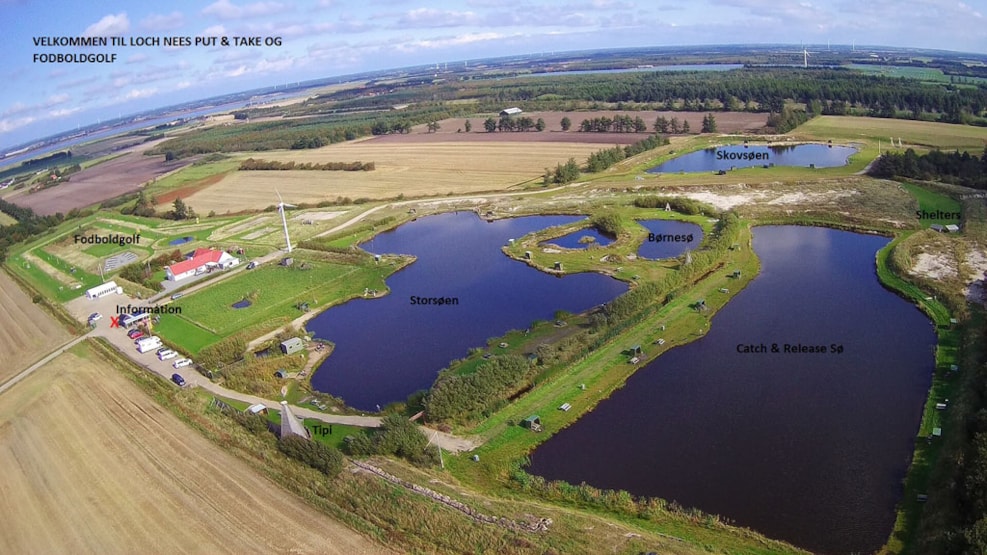 Loch Nees Put & Take
At Loch Nees Put & Take there are 4 large fishing lakes. It is i.a. possible to catch rainbow - brook and gold trout, as well as brooding etc.
In the large Catch & Release lake, it is possible to catch carp, tench, perch, catfish, goats and sturgeon up to 50 kg.
Loch Nees has 4 fishing lakes.
2 Trout Lakes - The Great Lake of 11,000 m2 and the Forest Lake of 8,000 m2. Rainbow brook and gold trout, breeding, etc. are exposed.
Catch & Release Lake of 7,500 m2 with sturgeon, carp, south, perch, moth, goats. Up to 50 kg in size. Note - all fish caught in the Catch & Release lake must be discarded. READ RULES for fishing in C&R, as special gear must be used.
Special fishing lake for children with many fish.
Facilities: Shelters for accommodation, tipi, campfire, shelters, shelters, tables and benches, cleaning area and handicap toilet. Vending machines with cold and hot drinks and various goods.
Opening hours are from sunrise to sunset. In the winter months fishing can always be done from 06.00 am  - 09.00 pm.