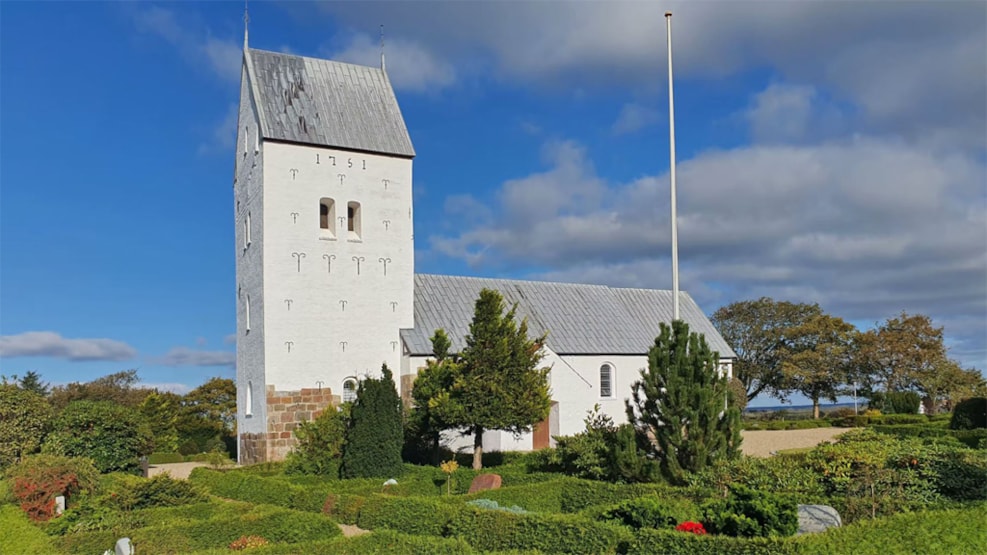 Lønborg Church
Lønborg Church, approximately 5 km from Tarm, offers amazing murals, beautiful carillons, and a great view to Skjern River. The church is filled with exciting stories about its turbulent past.
The existing church replaced an older church made of wood, located next to the old royal seat, the predecessor to the existing Lønborggård. The church has had a turbulent past, because it has been owned both privately, by the king and by the bishop in Ribe.
The church chancel and nave are in Romance style, while additional buildings are in Gothic style. During the 13th century, vaults were added to the chancel and the nave. 
Lønborg Church is first and foremost known for its murals, created in three different styles over a period of 70 years. The motives include the binding of Isaac, the baptism of Jesus, a portrayal of Judgement Day and works by the so-called "Lily Master".
Lønborg Church has a rare, beautiful, and eye-catching location as it towers on the hill at Skjern River Valley.
Fire times a day (8.10, 12.00, 15.00 and 17.10), you can hear the carillon of the church.
The church is open for visitors.