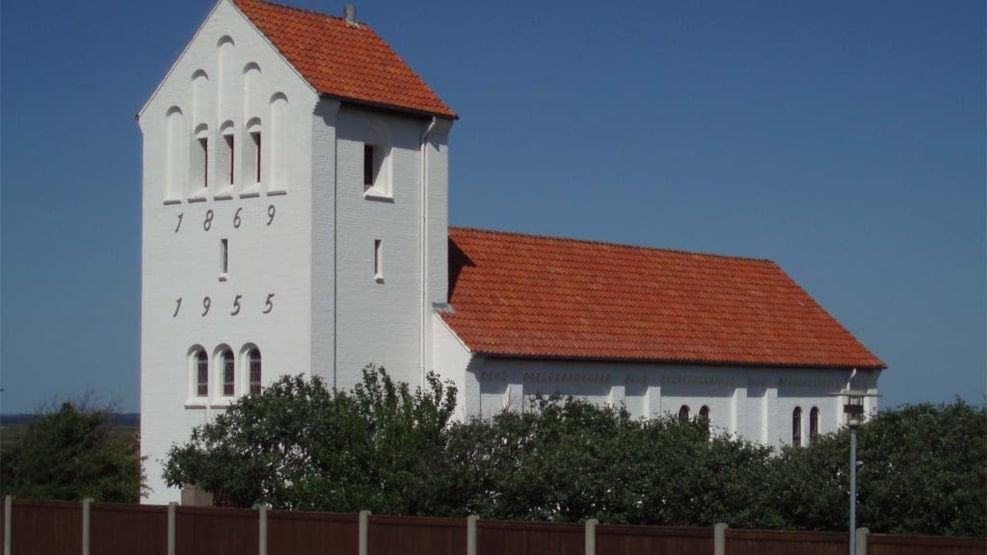 Lyngvig Church
Stories from the life at the sea. North of Hvide Sande is Nr. Lyngvig Church which were inaugurated in 1869. The church is romanesque in red bricks with slate roof in a low pitch. The ships in the church are donated in remembrance of drowned seamen by the coast of Nr. Lyngvig. Furthermore, on the church yard is a large cross in memory of the 5 rescuers that did in 1951.
Lyngvig Church was originally built as a chapel, and consecrated in 1869. The church is built in neo-Romanesque style of red bricks with tiled walls, and with slate roofs in low rise. In 1955, the church got a church tower, as well as tile roofs and gables adorned with glare.
Inside, the church has, among other things, an altarpiece, which consists of a cross and at the sides two pictures. The pictures were donated by parish priest Milter Iversen and his wife.
In addition, there are also two church ships hanging. The first is called "Dakota", and is a full rig that stranded at Nr. Lyngvig in 1888. The ship's captain and steward are buried in the cemetery. The other ship is called "Karen Marie" and is also a full rigger. It is donated in memory of 9-year-old Karen Marie, who is buried in the cemetery.
In the cemetery there is also a large memorial cross. The cross is in memory of 5 rescuers who perished in 1951 as well as counts with stones over soldiers from the allied forces who fell during the war in 1939-1945.
The location of the church itself is unique, as it is located in the middle between the dunes, Søndervig and Hvide Sande.
Find more information on Lyngvig Church's website.