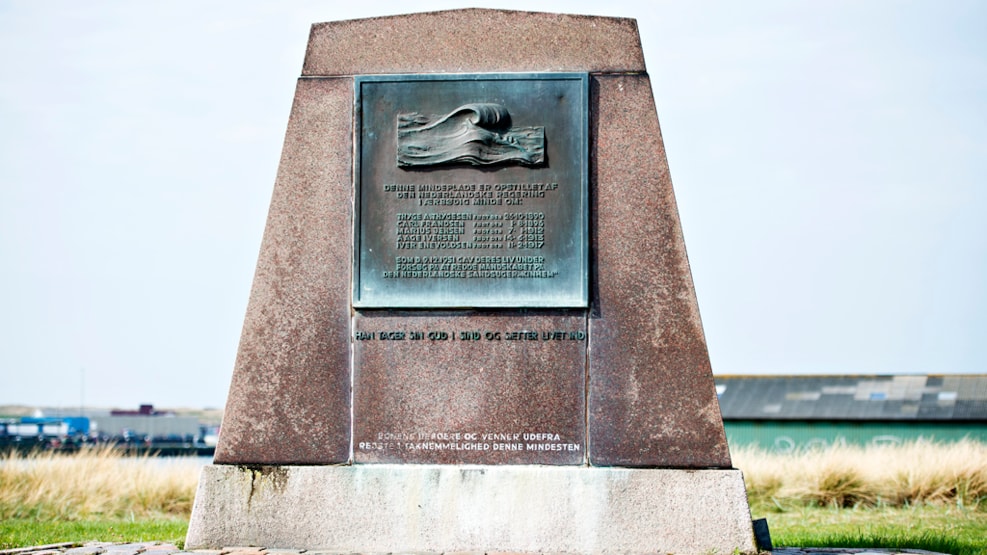 Monument for "Druknede Redningsfolk"
Opposite the museum "Fiskeriets Hus" in Hvide Sande is a monument in remembrance of 5 rescuers. They died in 1951 under a rescue when their rescue boat turned over.
On 9 December 1951, the lifeboat MRB 21 sank during a rescue operation off Hvide Sande.
All afternoon they had been watching a Dutch sand pump, which was submerged off Hvide sande in a storm with a wind force of 10. Later, rockets were observed from the sand pump and rescuers therefore decided to help.
When the rescuers came out to the sand pump, the Dutch ship did not want help, but instead assistance of a tugboat to avoid being submerged any longer. This message was sent by the rescuers to Blåvand radio, and therefore turned the bow towards land. On the way back, the disaster happened - the lifeboat capsized and 5 out of 8 men died.
The deceased rescuers are buried at Lyngvig Cemetery, and Fiskeriets Hus tells about the disaster in the permanent exhibition.