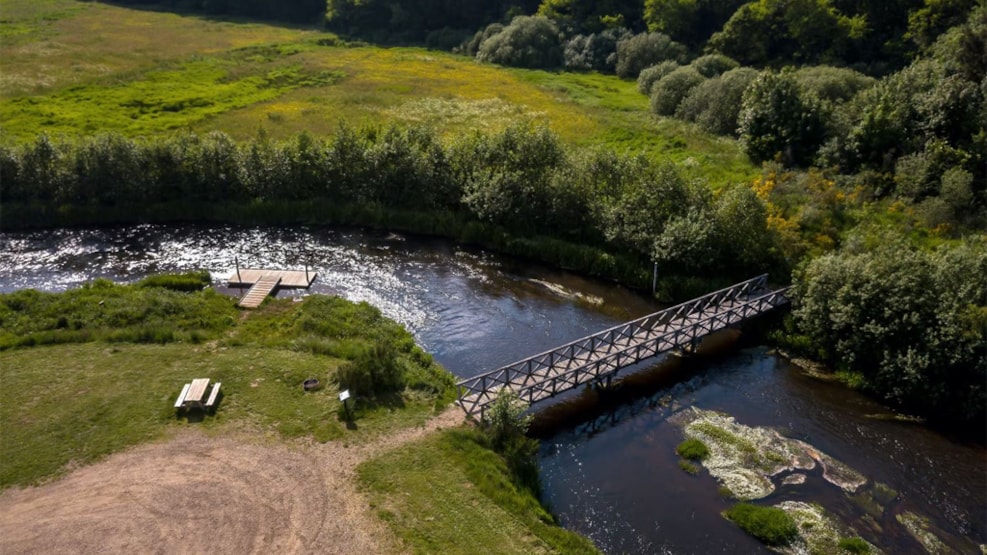 Naturrum Stemmeværkspladsen by Ansager
If you're on a tour around Ansager, you'll miss out on an inspiring nature experience if you don't stop by the dam works at Ansager on the Varde River. Stemmeværkspladsen is a scenic area close to the Coast-to-Coast Trail, with beautiful nature and exciting cultural history.
You can almost hear it. Nature sings. Stemmeværkspladsen at Ansager and the Varde River is a scenic area with beautiful nature and exciting cultural history. There you will find shelters for overnight stays, a bonfire hut with space for 40 people and an exhibition. You can get there by car, bicycle, canoe, horseback or on foot.
The exhibition talks about nature in the area and how the now closed canal and dams sent water down to the Karlsgårde plant to produce power.
You can walk from Stemmeværkspladsen along Kanalstien, which follows the now closed canal. If you walk down the path along the canal you will enter the Coast to Coast Path. The Coast to Coast Path is a marked hiking route of almost 140 km, made in a collaboration between Varde, Vejen, Billund and Vejle Municipality and a large number of private landowners. There is also a nature trail to Ansager - a 10-11 km. round trip. Follow the nature trail, go along Eghøjvej, which meets Mølbyvej and then along Vejlevej. There is also an approximately two kilometer long tramping trail (not suitable for disabled people) which goes from Stemmeværkspladsen, over the bridge and to Vejlevej. The trail is marked all the way.
There is a jetty for canoes at the dam in Ansager. There is access to water, toilets and shelters that can be booked in advance at booking@bookinaturen.dk. 
With a fishing permit in hand (can be purchased online), you can fish in the Varde, Ansager and Grindsted rivers, which converge 100 metres upstream of the dam.
Remember to bring your own firewood, so you can prepare your freshly caught fish and fire up a unique outdoor experience.