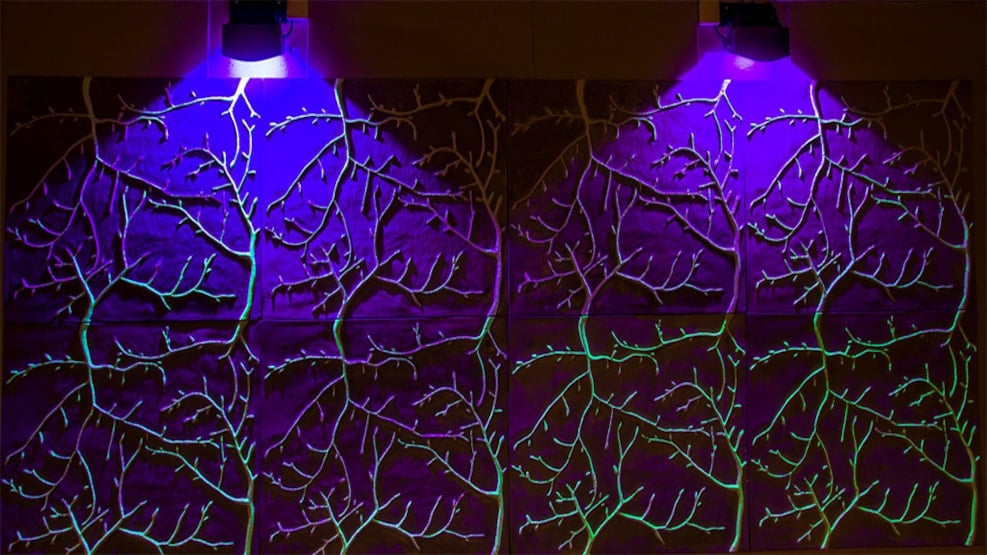 Night light in Skjern
The global goal gable in Skjern examines the potential of light energy for future sustainable cities and communities. Inspired by the theme for Global Goal No. 11 - Sustainable cities and communities - Artist Anna Rosa Hiort-Lorenzen has created a relief with colored concrete and phosphorescent materials.
In daylight the work is seen in different shades of blue with twisted branches, in the evening darkness a luminous green root network emerges. The phosphorescent materials collect light and energy during the day and emit light when it gets dark in the evening. This work examines how and how much this kind of storage of light requires to shine brightly in the evening darkness - and how it can be included as part of sustainable cities and communities in the future.
The work also serves as a study of whether we can use nature's own light sources as future evening lighting in our cities. With 'The light-bearing tree' in Skjern, Anna Rosa hopes that the global goal gable can contribute to a conversation about future light sources in our urban spaces.