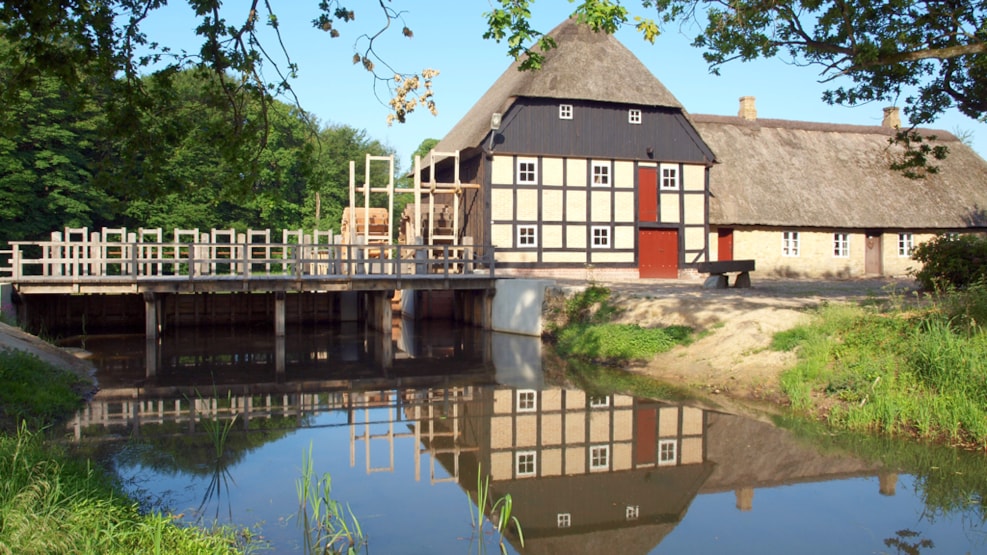 Nørholm Watermill
Nørholm Vandmølle, a beautifully preserved water mill, is located 200 metres east of the Nørholm Manor at the Varde River. The water mill was first mentioned in 1406 and is currently owned and operated by Nørholm Estate with support from Nørholm Vandmøllelaug.
The water mill has always been associated with Nørholm manor (now Nørholm Estate), which in the Middle Ages was a fortified castle complex. Together with the castle, the mill was first mentioned in 1406 in a court case in which the castle's appurtenant land was awarded to the Crown (Queen Margrethe I). The water mill building, without its land, was awarded to the church. However, the owners of the manor managed to buy back the land in 1524.
It has been a busy mill and the largest in Ribe County. In addition to the manor house, it milled grain for 215 farms and 41 houses, covering an area of 1960 hectares.
The current buildings are from the end of the 18th Century, when the estate owner Rosenørn Teilmann carried out a thorough renovation. In 1796, a hulling and peeling mill was installed, and in 1916 a turbine was installed, which for many years has powered a generator supplying electricity to Thorstrup and the surrounding area. For some time there has also been a smithy and a bakery connected to the water mill.
Nørholm Vandmølle became unusable when the Karlsgårde Hydropower Plant was expanded during World War II. The course of the Varde river was changed from Ansager to Karlsgårde Lake, and most of the water was thus taken from the turbine. Since then, it has been inactive, but has been maintained by Nørholm's owners. A thorough restoration was started in 2008. Local craftsmen and mill builder Jens Jørgensen have been responsible for the work. Among other things, the old boards have been dismantled and the half-timbered bricks have been re-built with specially manufactured yellow stones.
The Karlsgårde Hydropower Plant has now been decommissioned and the Varde River has returned to its original bed, so water is now being fed back to the mill in a quantity that makes it possible to show it in operation. However, the necessary permit has only been granted for a limited time, in July and August.