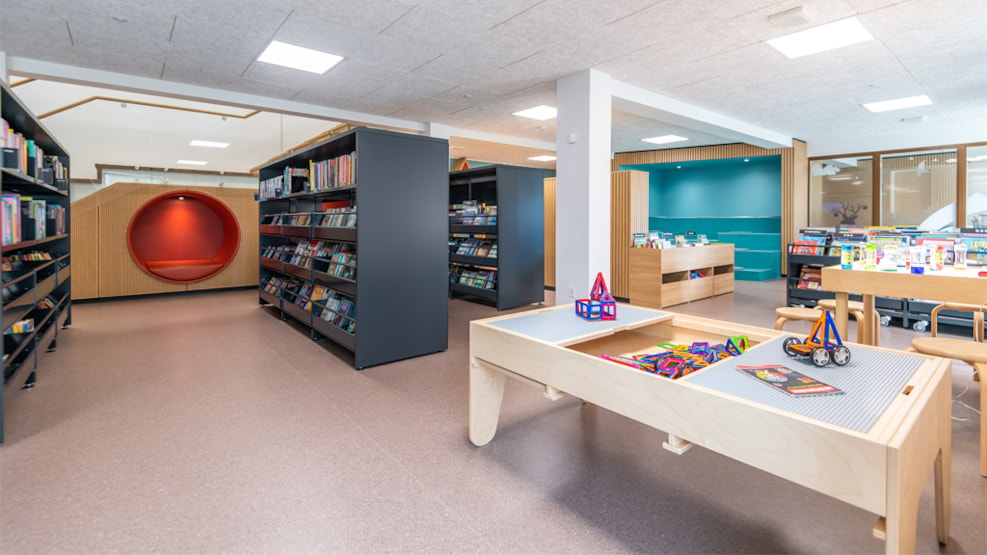 Nørre Nebel Library
Nørre Nebel Library is part of Varde Library. It's a place where you can read, play, learn and immerse yourself. At Nr. Nebel Library, you can explore books for both adults and children. You can dive into a variety of literary expressions, read the daily newspaper, play, and borrow books, movies, and games to take home.
The library is part of the Nr. Nebel Culture House, where there is also a local history archive, citizen service, music and youth school, and the opportunity for associations to borrow rooms for activities and meetings. In early 2023, the library and culture house moved to completely new premises together with Blåbjergsskolen.
Nr. Nebel Library is a joint library, where the public library and school library have merged into one.
The libraries in Varde Municipality are full of cultural experiences, inspiration, and communities. And there are many events of various kinds, ranging from theater and scientific lectures to debate and author evenings and creative workshops for children and adults.
In addition to the main library in Varde and the branch in Nr. Nebel, Varde Library has branches in Ølgod, Oksbøl, and Agerbæk.