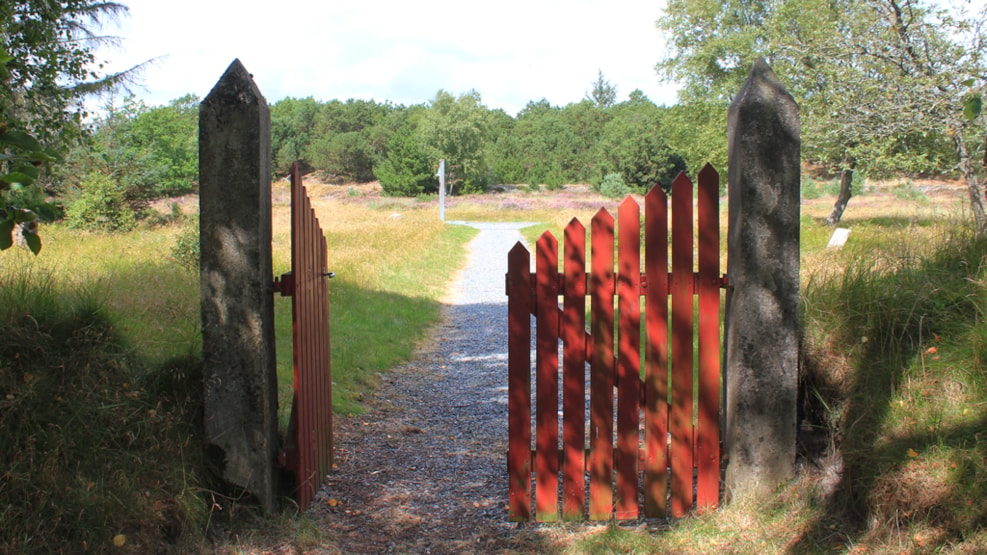 Oksby Gamle Kirke
The Old Oksby Church was the oldest thatched church in Denmark. Visiting the place where the old Oksby church was until 1891 one will find a quiet and peaceful place, where the wings of history really is food for imagination. At the middle of the church yard a gravelled spot shows a picture of the location of the church and it?s size. The church almost looked like a farmhouse, witnessing of the limited financial funds in the area.
When the church was built in 1770 there was no money for a bell. The church only got one, when the saved a bell from a stranded ship. The bell is hanging on a rack today. Already in 1770 the church had to be digged free from drifting sand. Realizing there were no trees growing in the area at that time, you will understand the danger of sand drift. An even earlier church is believed to have been placed a little North of this one, may be buried in a dune. Still quite a few gravestones are to found on the relatively big graveyard. 26 men from Blaavand, who died in a night rescue action in 1843, rest here. 23 of them were family heads ? a huge blow to such a small society.



Driving down the road from Oksbøl towards Blåvand one approaches a pair of isolated houses on ones left. If one goes into the plantation on the opposite side of the road one will come to the site of the old church. The church was Denmarks last thatched church. Today only the graveyard and foundations are visible.