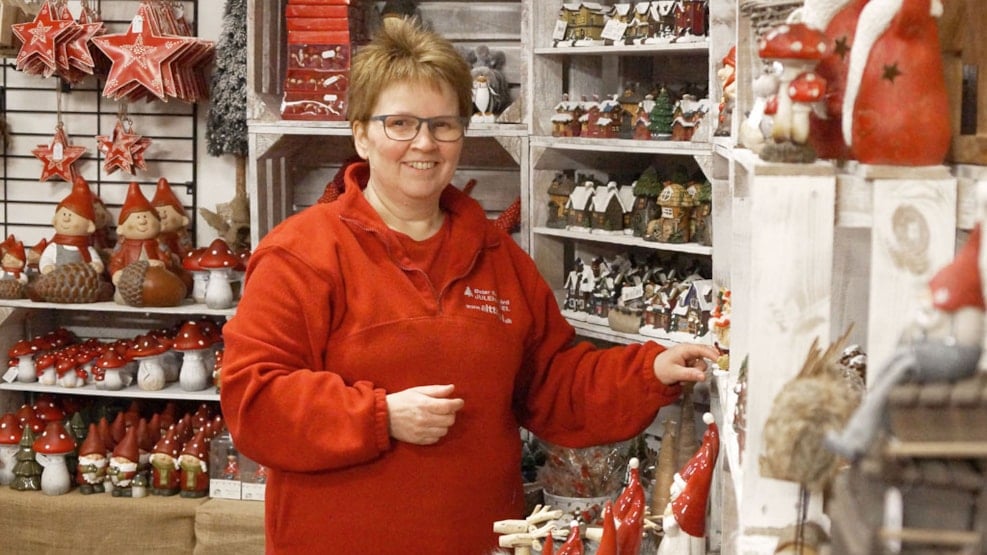 Øster Skovgård Christmas Store
It's a sure thing: Christmas is coming! If you want to stay ahead of schedule and have enough Christmas baubles and candles for creating the right ambience for when the time comes, they have it all at the Øster Skovgård Christmas Store in Snejbjerg – all year round
4 km. west of Herning you will find Øster Skovgård Julehandel.
Øster Skovgård Julehandel is a completely magical place where Christmas exists all year round.
In 1985, the family bought the farm on Snerlundvej, where they had already planted red spruce Christmas trees within the first year. Subsequently, they planted several, and today they have approx. 15% spruce and 85% nordmann spruce trees. That means the family today has 250,000 Christmas trees of various ages.
Later came the idea of ​​making a farm shop. The old stables on the farm were renovated, and today they have an indoor heated shop of 500 m2. The shop offers more candles in all colors and shapes, various Christmas decorations and handicrafts, decoration materials and a Christmas café.
In addition, the yard consists of a large courtyard, which is filled with beautiful Christmas trees, spruce, pine tops, Advent wreaths, decorative greenery, winter wreaths and much more.
At Øster Skovgård Julehandel you will experience a lovely atmosphere, and all age groups are welcome.
In addition to Christmas trees and Christmas decorations, Øster Skovgård Julehandel also has an exciting Nissesti in the farm's Christmas tree forest. Over the past few years, several 1000 people have used the trail, and it is a pleasant trip for the whole family. Every year something new is made on the trail. The path is 5-600 m. Long, and goes through the forest. On the path you will meet various elves and Santa Claus. In addition, there are also various activities such as Santa bowling, which is one of the popular activities.
To end your pleasant visit to Øster Skovgård Julehandel, the farm shop also has a Christmas cafe, called Kaffeladen. The coffee shop has Christmas music and Christmas fun. Here you will find æbleskivebuffet, and hot gløgg, cocoa or coffee / tea.
Øster Skovgård Christmas Julehandel is definitely worth a visit all year around!