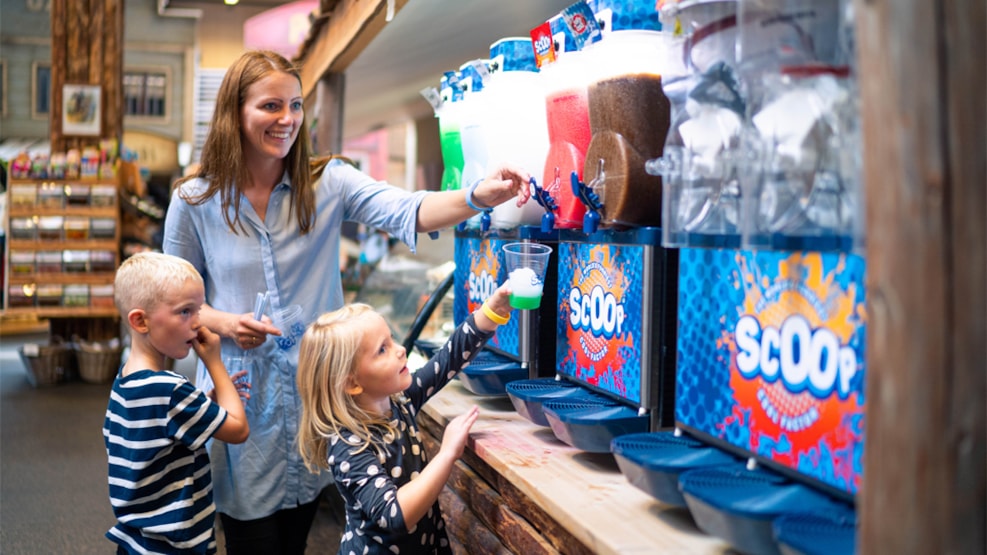 Play City – Playland and Trampoline Centre
Visit Playland or the Trampoline Centre at Hvidbjerg Strand Resort, where you can spend a lot of energy and enjoy hours together.
Playland
Howdy, Cowboy! Get off the horse and unleash the laughs in our Western Playland. Have you ever played football in a real saloon? Or crawled to the top between the bars of a jailhouse? Have you slid down through a post office?
In the 800 m3 Western Playland, anything is possible! You even get to jump on the trampoline at the smith's house and sneak up to the top of the water tower. When your stomach growls, refuel in our saloon, with snacks such as sausages, nuggets and french fries are served.
Trampoline Centre
At our Trampoline Centre, we have trampolines all over, even on the walls! Come and try our two large wall-tramps and challenge your jumping technique and balance. Or how about a trip down the new trampoline track, which ends in a soft landing on our foam pillow?
You can also spend time on our airtrack, where you can practice your back handsprings and somersaults, or enjoy a turn on the two large trampolines, where you land softly on a huge pillow!
If you are a guest at Hvidbjerg Strand Resort (www.hvidbjerg.dk), you will enjoy free admission to Play City's Playland and Trampoline Centre.
Playland and Trampoline Centre all day long.