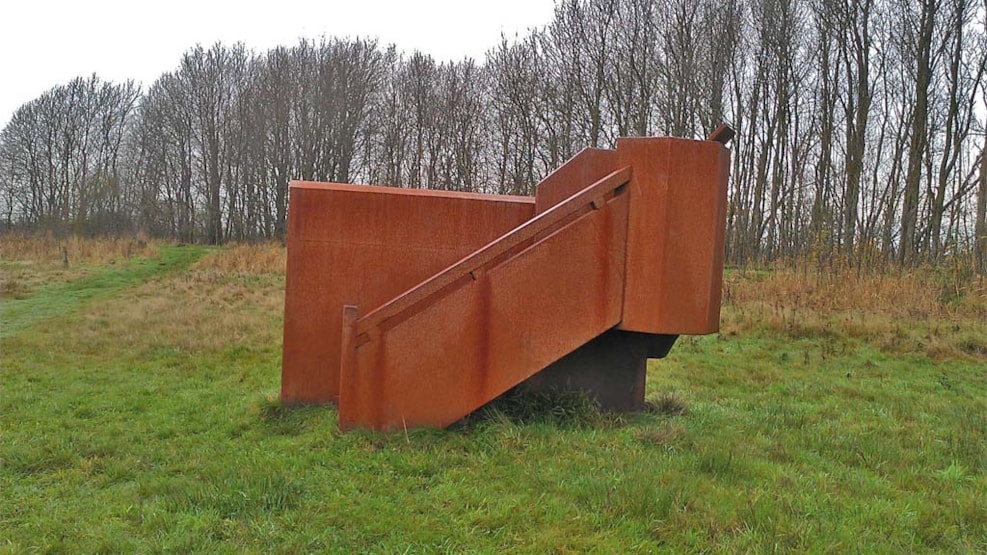 The Pulpit
The Pulpit is one of the 6 pieces of art which was build in connection with the project "Experience economic in the National Park - from theory to practice". The Project is financed of Ringkøbing-Skjern and Herning Municipality in cooperation with Region Midtjylland, EU regional fund and state arts councils picture selection. The artist, Bjørn Kromann-Andersen, wishes that the audience do go up in the Pulpit and uses it either to shout, or just enjoy the view and the nature, or use it to achieve insight and reflection. 
"The pulpit with high ceilings" is one of six spectacular works that will bind art, nature and local life together around the upcoming national park Skjern Å.
The sculpture "The pulpit with high ceilings" was created by artist Bjørn Kromann-Andersen, and stands in Skjern Enge by King Hans' bridge at the end of Petersmindevej. The sculpture itself is made of corten steel, and will in time be characterized by a rust-red color, which plays beautifully up to the grass-green meadows.
The idea behind the sculpture is that in the flat West Jutland landscape there are "high ceilings". The large celestial space therefore invites both enthusiasm and devotion, which is in contrast to the church pulpit with canopy, there is above the sculpture's pulpit the large celestial space.
From the pulpit there is room to shout out his message or maybe even just enjoy the silence. The pulpit provides space for many possibilities.
On the flat back of the sculpture is written "Everything has a back", which may refer to the back of man, or an unknown and perhaps unanswered page.