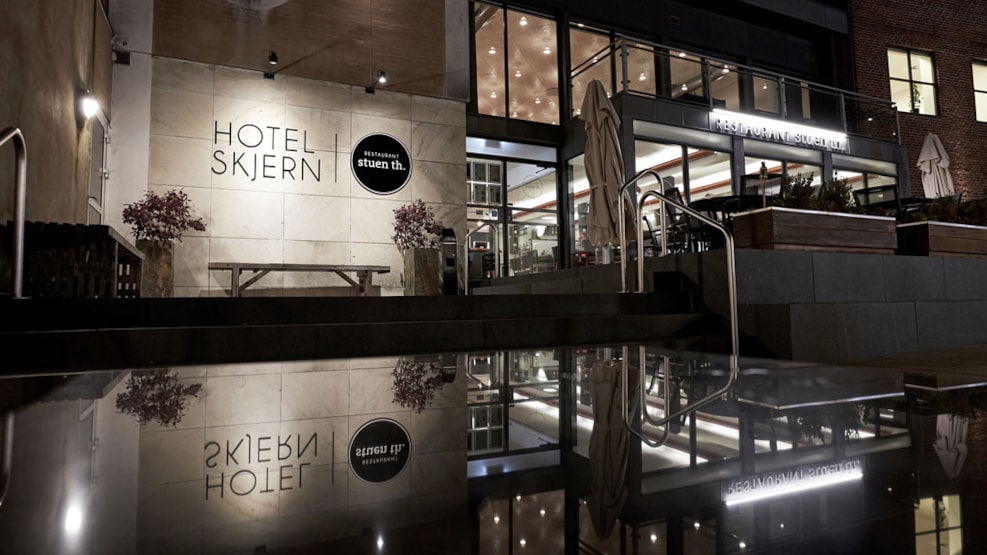 Restaurant Stuen th.
Restaurant Stuen puts local, seasonal ingredients front and centre, and all their dishes are made from scratch. Staples on the menu include fresh local fish and the house burger made with beef from Økogårdene Skjern Enge.
Enjoy your food with a beer from local breweries Hvide Sande and Fur Bryghus, or with some local spirits from Stauning Whisky, Lowlands G&T or Knaplunds Old Fashioned.
The terrace is open all day and has outdoor heaters. Besides the lunch and a-la-carte evening menus, the restaurant also offers a selection of snacks and cakes all through the day. 
Hotel Skjern is a modern, family-owned hotel with 32 rooms and Green Key certification. It is run by couple Kristina Bundesen and Christian Rasmussen. The hotel has undergone extensive renovations over the last seven years and got its new restaurant in 2022. Most of our interiors are produced in Denmark and crafted from local Danish oak. The hotel also offers a good setting for companies, meetings and conferences
Skjern is home to some 40 speciality shops as well as the Vandhaverne and Den Grønne Korridor – both outdoor attractions within just a few minutes of the hotel on foot. Or hop in the car and drive out to Skjern Enge where you can experience the rope-pulled ferries or visit Pumpestation Nord for sweeping views over the meadows.
Click here to ee more about opening hours, booking and menu.