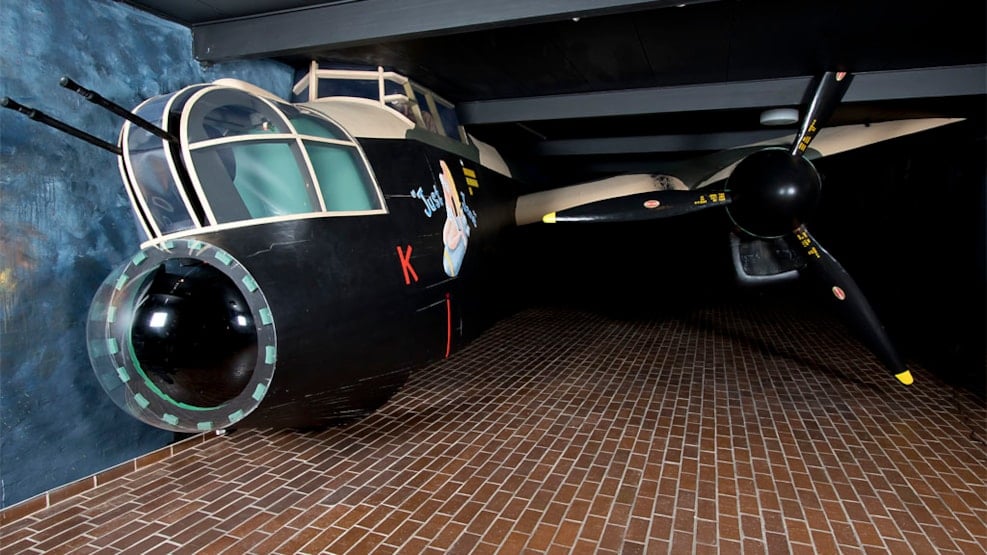 Ringkøbing Museum
Ringkøbing town is an idyllic market town from the 15th century, where you will find charming cobbled streets, beautiful old town houses and grocery farms, which together hide stories from a bygone era.
Ringkøbing Town is an idyllic market town from the 1400s, where you will find charming paved streets, beautiful old town houses and grocery stores, which together save on history from and bygone times. At Ringkøbing Museum you can experience exciting exhibitions, guide tours and visit the cozy museum shop.
Exhibitions about World War II
"Flyvere i natten (Aviators of the Night)" is an exhibition that makes you aware of the history of the English bombers, the Lancastere, who flew over the west coast of Denmark during World War II. The focal point of the exhibition is a large 1:1 scale recreation of a Lancaster. Through the audio, film, original objects and large format images, the exhibition tells us about the planes that crashed, their missions and about the people behind.
At the museum you can also see a mini-exhibition: "Hvad bunkeren gemte - en tysk soldat fortæller (What the bunkers hid - a German soldier tells)". Most German bunkers were abandoned and emptied in 1945 or shortly thereafter, but some of them was completely covered with sand and remained untouched until after a storm appeared at Søndervig in 2008.
In the exhibition you enter the reconstructed bunker and can see the film about the German soldier Gerhard Saalfeld. During the war he lived in the "lost" piles and several of the exhibited items belonged to him.
City exhibition
200 years of town hall history have been attempted at the Ringkøbing Museum at the Judges Office in the exhibition: "Byens hus – amtets hus (The city house - the county house)".
At the Judges Office you can also experience the old market town depicted in paintings from around the year 1800. The city exhibition is a great starting point for a city walk around the streets - where many of the houses still stand.