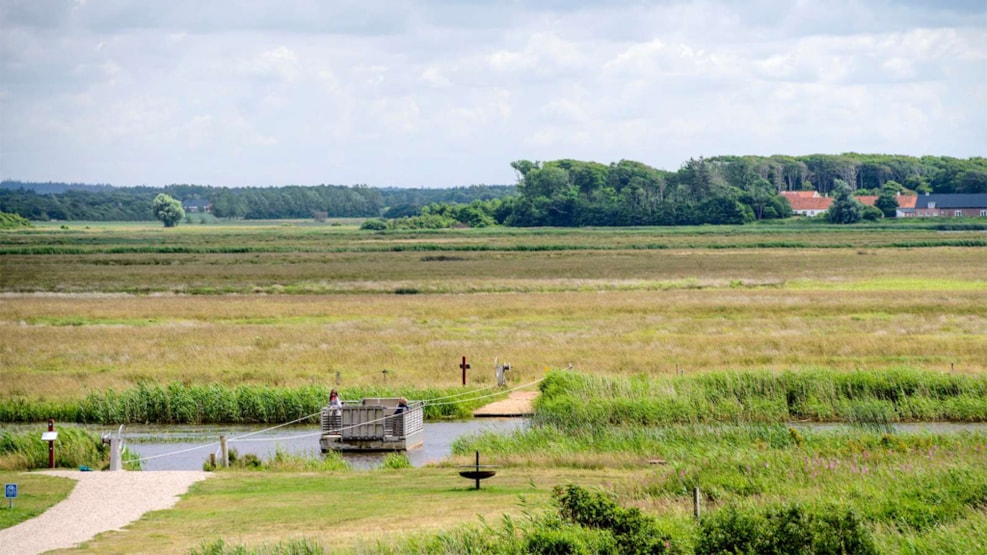 The Rope-Pulled Ferries in Skjern Enge
Skjern Enge is a fantastic area which offers many wonderful experiences for the public; also for those in wheelchairs. Here, there are rope-pulled ferries, suspension bridges, and bird watching towers that allow you to observe this area's many species of birds.
In Skjern Enge (meadows) there are two rope-pulled ferries which allow you to pull yourself across the river Skjern Å. Also, you can bring your bicycle and then continue your cycling trip on the other side.
The area surrounding Pumpestation Nord (Pumping Station North) is Denmark's only river delta, which is 6 to 8 km wide and stretches for 12 to 14 km inland.
The two rope-pulled ferries cross two streams which encircle the small island "Kalvholmen". The ferries' location allow you to go for a walk on Kalvholm, which is otherwise cut off from the surrounding area on all sides by the river. Pulling a steel-cable you can cross the two streams by using your own arms.
The bridge Kong Hans' Bro provides another way to cross the river. There is a story about King Hans, who was the king of Denmark from 1481 to 1513: In 1513 the king was on his way to Aalborg and his horse fell into the shallow waters in the river Skjern Å. He and his men continued to Aalborg, but the king became weaker and weaker and later died of pneumonia, which he got after his fall into the cold water at Skjern Å.