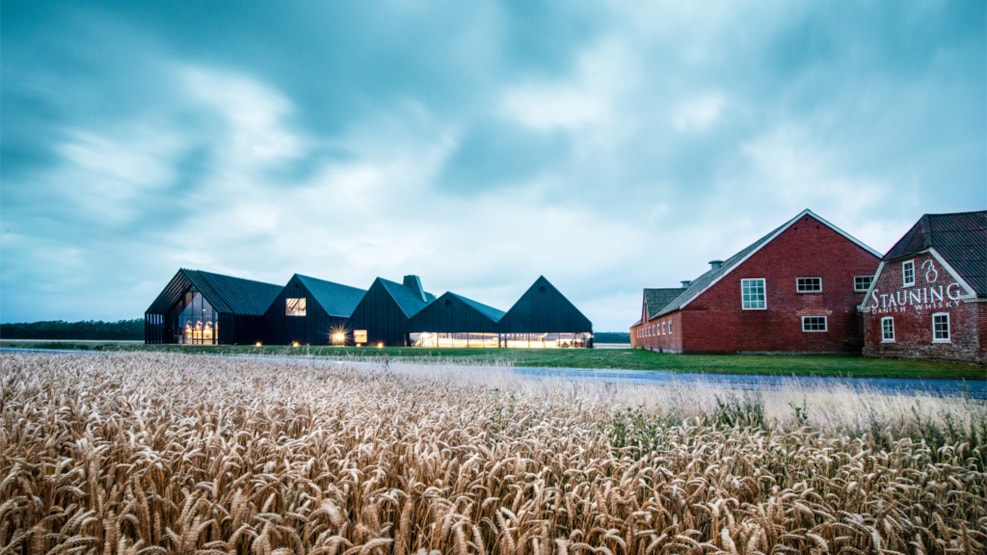 The shop at Stauning Whisky
Welcome to Stauning Whisky's farm shop – where the entire story of Stauning Whisky is distilled down to a whole new sensory experience. Discover the old farm distillery's charm and explore the Stauning Whisky universe.
At Stauning Whisky, the authentic farm distillery is preserved. Here you can see how it used to be, from floor painting in the old stable with the unique grain turners to distillation in the hand-hammered Portuguese pot-stills.
In addition, Stauning Whisky's multilingual staff are always ready to take you on the grain's journey from the surrounding fields to the finished bottles, and recount the small home distillery's journey from a local  abattoir's back room to being among the most innovative distilleries in Denmark. 
The assortment in the store
In the shop, you'll find the iconic bottles Rye, KAOS, SMOKE, and a constantly changing range of exclusive Distillery Editions only available in the shop.
In addition, there is a diverse selection of exciting collaborations such as lovely liquorice from Bülow, aromatic coffee from HaveACoffee and velvety ice cream from Kastbergs, all with the crucial touch of award-winning whisky from Stauning Whisky.
Capture your experience with merchandise from Stauning Whisky, in the form of exclusive whiskey tasting glasses, T-shirts with creative prints, postcards with motifs from the distillery or something else entirely.
Going west?
So stop by Stauning Whisky and visit the special farm shop, where you will find world-class Danish Whisky and be greeted by the welcoming staff.
Curious to know more?
Then book a tour of the distillery and enjoy a guided, double-distilled taste journey.