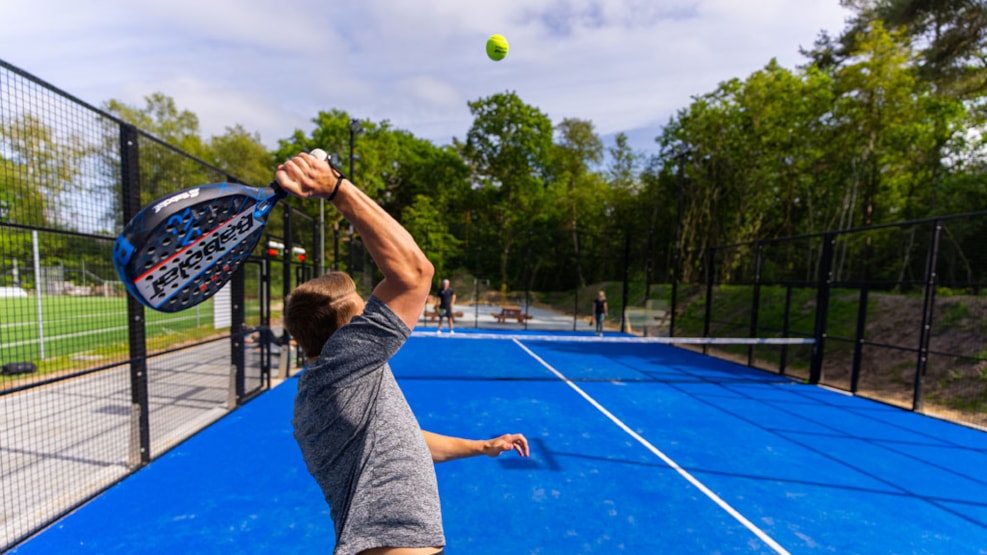 SportsPark Blaavandshuk
Welcome to SportsPark Blaavandshuk in Oksbøl – a gathering point for groups and families.
Every year SportsPark attracts lots of families, groups, and tourists, who enjoy the wonderful nature surrounding the centre, and last but not least the unique facilities, including  a 2500m2 large water park, as well as our paddle, tennis, badminton, and spring gymnastics centre.

A gathering point
SportsPark Blaavandshuk is visited by a lot of groups and guests who enjoy an active lifestyle indoors and outdoors; both tourists and locals. The centre is open 365 days a year and you can spend the night in one of their cabins, right next to beautiful nature and it is a favored destination for families with kids and sports enthusiasts.

Activities for all shapes and sizes
In Oksbøl, SportsPark Blaavandshuk has three sports halls for room facilities for badminton, basketball and ballgames, spring gymnastics, fitness, swimming, and a water park, a flexible court for soccer and tennis, and e-sport area, padel and beachvolley among others. Our qualified staff, personal trainers, dietitians, and many more are ready to assist you.
When you stay in one of our cabins, there's free access to all facilities when they're available.

Nature and our town
SportsPark Blaavandshuk is beautifully situated right next to Ål Dune Plantation, which continues all the way to the wide sandy beaches here. Apart from that, it's just 300 m to the shops in the centre of Oksbøl. To make it short, you can't get a better location than this.  
SportsPark Blaavandshuk is much more than Oksbøl
Other than the large centre in Oksbøl, SportsPark Blaavandshuk also has fitness centres in Blåvand and Vejers, the SportsPark Blaavandshuk Golf centre in Ho, with two 9-hole golf courts and a top quality 18-hole court. These golf courts are located in both Naturpark Vesterhavet and Nationalpark Vadehavet.

Continuing development 
We are already famous far and wide for our active approach to life – and we will continue to be, constantly developing SportsParkBlaavandshuk to the benefit of our users and all our guests. We have the perfect setting for adventure...