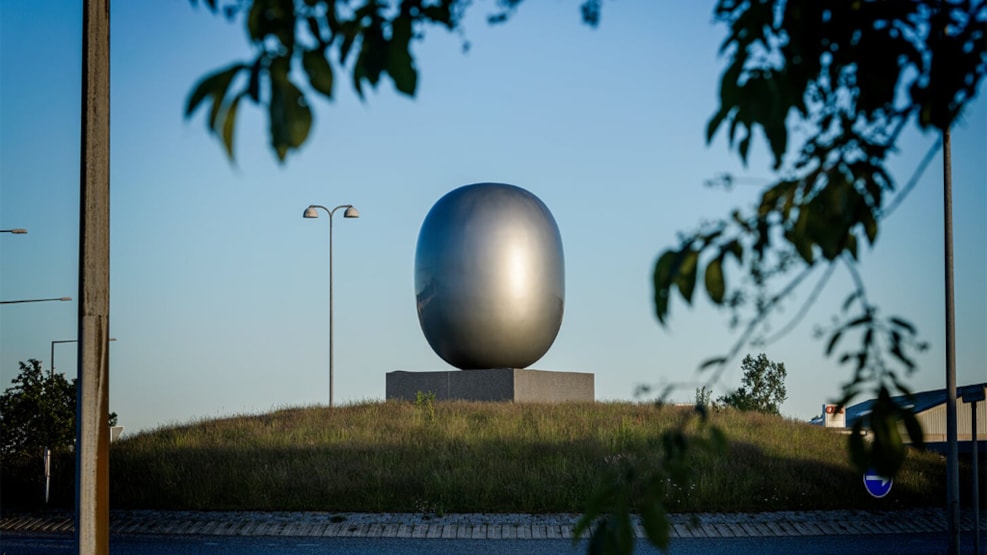 Superægget
The super egg is the world's largest version of the super ellipse, and was made by the artist Piet Hein in 1999. The super egg is set up in the roundabout at Ringvejen, Arnborgvej and Østergade in Skjern. It is 4 meters high, and is made of silver-bronzed fiberglass.
"The Super egg is a geometric innovation in this century and appear as a beautiful,harmonious and timeless sculpture, signal Skjern as a dynamic and progressive town.Such sculpture will place Skjern on the art map of Denmark."
Such wrote manufacturer Th. Skjøde Knudsen in 1994, when he in connection with conservation associations competition for decoration of the roundabaut Bredgade/Søndergade in Skjern first time proposed the superellips as decoration in the roundabaut in Bredgade, but the idea won then no response.
The reasons for choosing "The Super egg" was, that Piet Hein hat some connection to Skjern, from which his eggs from " The Super Egg World Center" were sold to over 30 countries."The egg production" was then a successful collaboration between Piet Hein and Th. Skjøde Knudsen.
Some years later,as the roundabaut Arnborgvej / Ringvejen was made, the idea was taken up again by then-City Manager Erik Lorentzen. They got permission to use Piet Hein´s Superellipse, and applications were send to local firms, Banks and various foundations.
The Sculpture by Ringvejen is made of silver bronzed fiberglass, over 4 meters high and has cost about 400.000,- kr.
Roundabout east, Arnborgvej/Østergade/Ringvejen, 6900 Skjern.