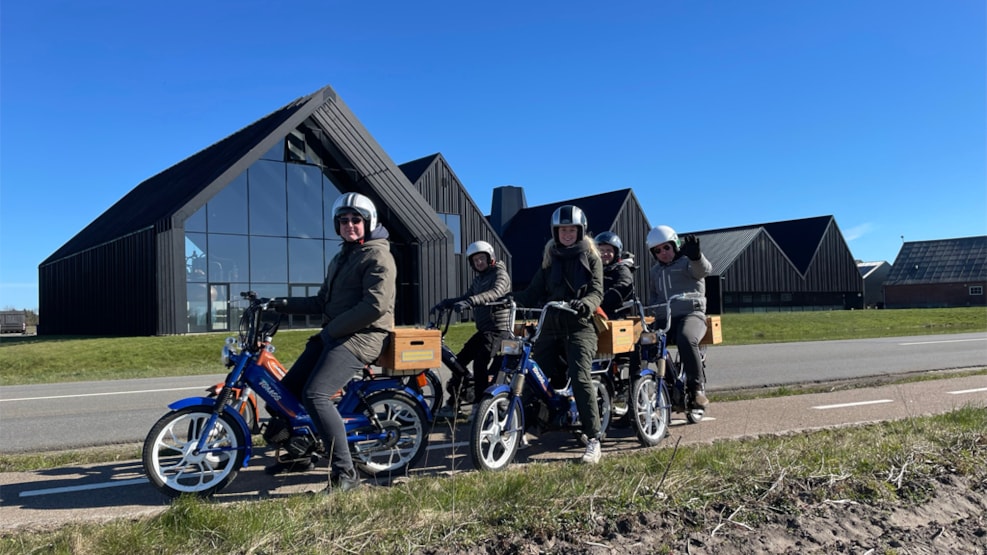 Take a moped tour along Ringkøbing Fjord with Tomos Tours
Enjoy a unique experience with your family, friends or colleagues on the back of an old moped along Ringkøbing Fjord. At Tomos Tours, you have the opportunity to rent an older moped of the Tomos brand, which is very easy to drive - as there is only one throttle and two brakes to keep track of.
Tomos Tours has put together some routes along Ringkøbing Fjord that you can choose to ride. So just twist the throttle a little and we wish you a good trip.
Everyone should have the opportunity to go on a moped tour. Here you can avoid all the practicalities such as maintenance and repairs, route planning, petrol and oil mix, insurance, etc.
The concept is simple. You can book Tomos Tours different packages, all of which include renting a crisp older Tomos moped for a certain number of hours. In addition, their packages include an introduction to the moped, roadside assistance in case of problems, fuel, helmet, moped lock and a cosy retro wooden box on the luggage rack so you can pack some delicious supplies for the trip.
Tomos Tours has created a selection of routes along Ringkøbing Fjord, all of which can be found on their website. The routes can be activated via Google Maps Directions and mobile phone holders are mounted on the handlebars of the mopeds. If a breakdown occurs during the trip, Tomos Tour's service car can be called to see if the problem cannot be solved on the spot. If not, the moped will be replaced so you can continue your tour.
If you have a request for a special event or if you are a larger group, please contact Tomos Tours and they will customise a package for you.