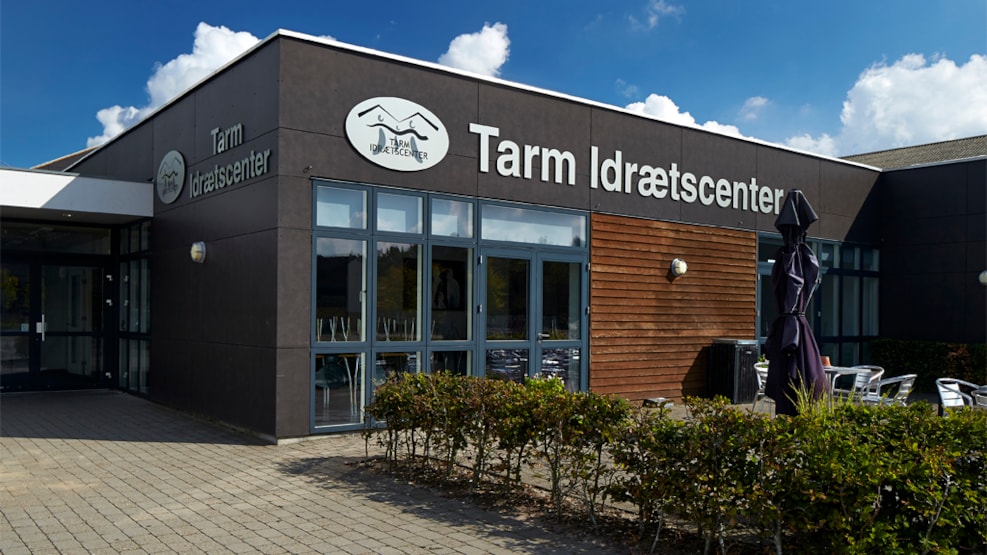 Green Experience
Tarm Idrætscenter (Sports Center)
Tarm Idrætscenter is an active gathering point for the whole city, here you will find activities from early morning to late evening. Tarm Idrætscenter offers everything within health, training, sports and events for the whole family.
Tarm Idrætscenter (Sports Center) offers everything for the active family and a playground for all water dogs.
The swimming pool has a hot water pool where there is room to swim. In addition, there is a 60 meter long water slide, as well as a 1m and a 3m rocker. In the Swimming Hall you will also find a whirlpool and baby pool.
In Tarm Idrætscenter you will also find a modern fitness center, which has many offers within health and exercise.
In addition, the Sports Center also has tennis courts and badminton courts with the possibility of renting rackets.
The focal point of Tarm Idrætscenter is the café. Here you will also find the information center. In the Cafe you are always welcome to enjoy some food or a cup of coffee in the living area, where there is also a TV. Tarm Idrætscenter's cafe is all about good quality food.
Tarm Idrætscenter can also form the framework for your stay in your organization. This can be a school stay or sports stay. Tarm Idrætscenter can put together a stay adapted to your wishes, just as a ready-made solution can be chosen at reasonable prices.
In Tarm Idrætscenter you will also find many associations that use the various activities both indoors and outdoors on a daily basis.
The sports center in Tarm has a good permanent staff, who will always do everything to make you feel comfortable. They will try to create the perfect setting whether it is a conference with few participants or it is a big party with several hundred guests.